Have you ventured to any concert, outdoor musical festival or a movie screening in the park lately that did not make use of the LED screen? Probably not! Chances are that LED screens have become an inevitable part of every concert or outdoor event that you attend nowadays.

Think of a large television that can project scenes clear in both the indoor and outdoor setting. These screens are popular for their ability to engage viewers by allowing them to enjoy the moment through lighting techniques that are out of this world. Gone are the days of relying on the trusted old and faithful projector as LED takes screen projection to a whole new level.
So What Exactly is LED and How Does It Work?
The acronym LED stands for Light Emitting Diode. An LED screen that's operated via a flat panel video display makes use of light-emitting diodes that represents the pixels for video display. LED works because it acts as a conductor that virtually glows when a voltage is applied to it.

Since LED lights are rather bright, they can be used successfully at any outdoor event, even when the sun is shining at its glorious peak. Nighttime does not deter the projection offered by LED screens either. Aside from just being used as an LED screen for visual display, the screen also provides illumination which basically lights up the event in its entirety.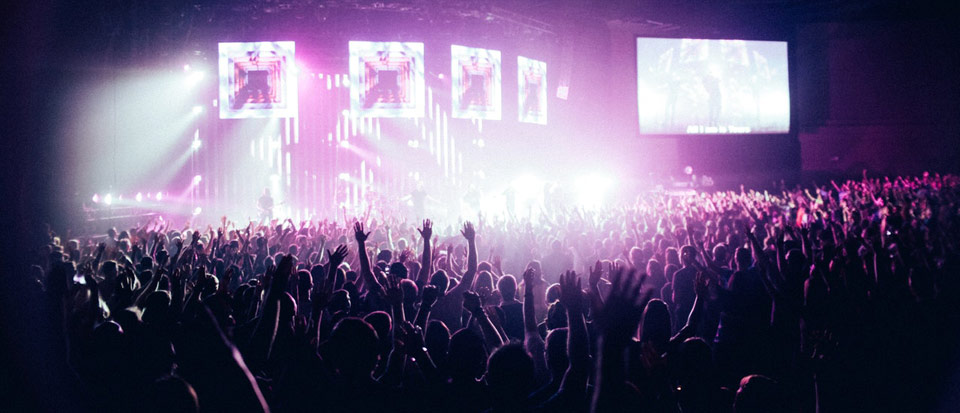 The History of LED
When the idea of LED first came into the spotlight, LED meant giving off a predominantly red light. As history would have it, this was around 1962 that the first LED appeared. Thereafter the monochromatic LED design changed and LED became a blue light. Then lighting of the LED became a subject of fascination.

It was also discovered by Mark Fisher's LED design design that wider pixel spacing meant better long-distance viewing. In modern times, high brightness diodes are used to project high-resolution displays with a myriad of colors. Highly bright emitting diodes are now part of LED technology and another inescapable reason why Onq Digital LED displays are a requirement in both indoor and outdoor events.
Why LED?
When deciding on an effective method to project something at an outdoor function, it's easy to make an argument for an LED screen over a projector. That's because the LED flat screen offers a higher contrast ratio in comparison to its previous competitor-the projector.

This is what has made these screens a basic necessity for outdoor events of a larger magnitude. Aside from vivid visual displays, stage lighting and other stage decorative options are available with LED. A pop-up event can be stepped up a notch and end up looking like a well-planned event due to the inclusion of LED screens at the event.
What to Consider When Opting for Outdoor LED for Functions?
One of the first things you need to do when looking for an LED screen for your outdoor event is to think about the pitch of the LED screen. Pitch means the distance between pixels. For best results, it's advisable to opt for LED screens with a higher pitch as this means further distance viewing.

Outdoor LED displays will have a pitch that starts from about P10 and can be even higher considering how big the event is. Think about the resolution as well. Resolution determines how much and how clear information is displayed on the screen based on the number of pixels available in the viewing area.
Approximately 55 000 pixels should be the minimum total resolution to show an amazing video display.
The Design of LED Screens
The trendy modular LED screens are highly flexible and can be built according to any design specifications. Modular screens tend to be a customizable option dependent on the brief of specifications.

The fact that LED screens are so versatile means that audiences can experience sheer delight when attending concerts and outdoor functions.
Image magnification is another reason to fall hopelessly in love with the idea of using LED screens at events. The use of LED screens specifically in VIP areas also function to heighten the audience's experience whilst giving them something to rave home about.
What do you think? Will you use the LED screen for your next outdoor function? If vividly bright, high screening resolution is what you're after then the answer should be yes!