Stereo Off are a NYC-based blend of indie and electro who espouse that being good people and being in a hustling band is not incompatible. The group cite acts as diverse in sound as Metric, Monogold and Superchunk as influences on their warm blend of pop and experimental tones that comfort as well as make you want to shake your tail feathers. The band's new video for "Sunsetting" (in conjunction with Deviant Children Productions) has that blend of INXS and Vampire Weekend you may have been unwittingly craving. Watch the clip and lose yourself in the smooth but organic sounds as the imagery goes to some literally interesting places.
Sebastian (lead vocals and synths, writer/producer Stereo Off):
"This song is about driving off into the sunset with your lover. It became a journey in defining our sound and the video has been a story of its own. From digging up one of the first tracks I ever made in Ableton to having Jim put that glow of the sax on it — that sound blending into our live show — on to the premiere of the single and EP. Nic Ortiz from Deviant Children Productions whom we've done some film scoring for came to us with a video treatment. It's the story of a suburban wife who wants to explore new things in the city, but needs some doors opened, so she hires a driving/'cleanup' service that keeps things discreet. We did shot timings and production planning on that same roof Jim is blazing a solo on 9 months later."
"...Back in real life things got dicey when the director and his fiance were trapped by the Florida hurricanes, which caused them to cancel their wedding but they eventually made it out unharmed, thankfully. After they came back alive we planned new shoot dates, got the Porsche back and finished the video, and they finally got married...so as the chorus on the track says "it feels like a miracle." We had fantastic people to work with like Krystal and Sasha as leads and Aria on makeup, and Nic's lighting and love of fog machines made this a proper ride off into the sunset for everyone."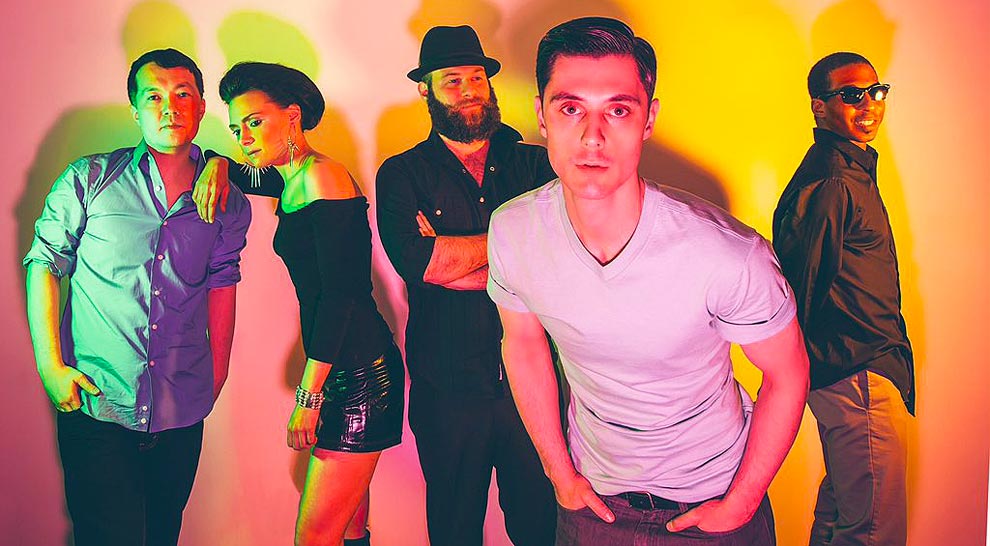 Niall (bassist/co-writer Stereo Off):
"The song had this 80's vibe that we definitely wanted to depict in the video, and that needs a nice sports car. I told Aleks (driver in the video, car brand brand rep and serious automotive afficionado) that we're going to want to film him driving a fancy sports car around."
James McElewaine (Saxophone player, Stereo Off):
"Sebastian PM'd me one day that he had a song that really reached out for a sax, so I cut the tracks at Butcha Music, then in Manhattan with Phil Moffa himself producing . Then Seb worked his own slice-and-dice magic on it, one of the best I've recorded. Nic Ortiz really caught some great cast and location vibes in the video, including me a in few shots with Camelot in the background."
Nicolas Ortiz, (Video Writer & Director):
"As soon as I heard the opening notes with the sax, my first thoughts were 'This belongs in an 80s erotic thriller film!' Films like Body Heat, 9 1/2 Weeks, where sex and intrigue kind of became one and the same.
The treatment of the music video centered around one woman's trip into a world of indiscretion. We got the sense that she was new to all this but it was exactly where she wanted to be to feel fulfilled. Our lead Krystal, a dancer and model turned actor, and I discussed what was going to happen and wisely chose to have her work with her good friend, fellow dancer and model Sasha, just make it all more comfortable. They certainly gave the camera more than what we were expecting, that's for sure! Overall a great shoot and a good time."
"Sunsetting" was written by S. Marciano for Fresh Produce International (ASCAP) and performed by Stereo Off. Additional writing was done by Niall Madden and James McElwaine, additional arrangements by Phil Moffa.
Video Cast and Crew:
Stereo Off presents a Deviant Children Productions picture, starring Krystal Pizarro, Sasha A. Wilson and Aleks Ivanovich, written and directed by Nicolas Ortiz, edited by E. Jeffé, produced by Fresh Produce International and Dirty Fix Records, hair and makeup by Aria Ferraro, additional casting by Fresh Produce international, production assistance by Julia Pizarro and Chopstick Graffiti.
Stereo Off music is available via Spotify, iTunes, Amazon, AppleMusic, GooglePlay and all your favorite platforms:
http://www.stereooff.com
https://www.instagram.com/deloriantokes/
http://www.facebook.com/stereooff
http://stereooff.bandcamp.com/
http://www.soundcloud.com/stereooff
http://www.twitter.com/stereooff