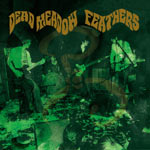 This starts out sounding like everything that's good about the Brian Jonestown Massacre. Early Brit Pop leanings, slide guitar, psychedelia. That's where the comparison ends, and the story of Dead Meadow begins.
I don't have a copy of the album yet, so I am just going to review the MP3 single. The album comes out on February 22nd. I've already ordered a copy based on the strength this song.
This is like a shining dream soundtrack. The guitars drift almost on their own, but always slide back to some form of loose melody. All instruments move as a cohesive whole. This is the first time in a long time that I can remember listening to a song as a whole, composite piece rather than a bunch of instruments side-by-side. I wonder if they record live in the studio as an entire band rather than one at a time?
But the best part is at approximately 3 1/2 minutes into the song, when a sly pop melody slides into stream of consciousness. This reckons back to Live At Pompeii era Pink Floyd, if they hadn't ditched their pop persona. Sliding guitar soliliquies meander into a surreal musical creation. I want to play this song over and over when I go to sleep so it can be the soundtrack for the dreams I have at night.
RATING: ***** 4 out of 5 stars

Download the At Her Door MP3