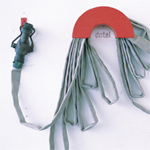 Written by: Jason Miller

Dntel's Dumb Luck is the soundtrack to a slow-going and only slightly successful nap on a Thursday afternoon. Sure it's a romantic notion, but I actually did doze off the first two times I listened to it, and I'm not really a napper. I mention this not to disparage the latest album from James "Figurine" Tamborello, but to prepare you for the sedate and sometimes sensual, quietly intriguing and sometimes dull soundscapes that pick up where 2001's Life is Full of Possibilities left off with only a slight tip of the hat to his work with the Postal Service. The latter's Give Up is a raucous disco dance album by comparison. If Life's (This Is) The Dream of Evan and Chan was the impetus for his mailorder laptop pop collaboration with Ben Gibbard, Give Up's This Place is a Prison could be seen as the springboard for Tamborello's latest Dntel dreamers.

Once again, Tamborello hits up his entire address book to lend their subtle acoustic melodies and often indolent vocals to his audio collages. Ironically, the best song on the album is the title track, the only song that is straight up Tamborello and his backing musicians, with no special guests. Focusing on the duplicity of luck, it's a simple strummed melody that surfaces out of what sounds like a distorted backwards version of the track. Flashes of disruption appear behind Tamborello's almost whispered vocals. I love the guitar that comes in near the end before surrendering to the "oompa-loompa" style backing chorus. Equally commendable are the lyrics, which are at once extremely personal and completely universal, and the way the song seems to go back from whence it came evolving into the second track, Grizzly Bear's cameo To A Fault.
My favorite of the collaboration songs, To A Fault is the best example of Tamborello's ability to mesh sounds with his talent. A circular acoustic rhythm emerges from dissonant ambient noise to carry the first half of the song amid washes of Tamborello's toys. It's a sonic continuation to the opening track, but more of an adventure. I also recommend two beautifully addicting tracks in the middle of the album, The Distance (featuring Arthur and Yu) and Rock My Boat with the enchanting Mia Doi Todd.
Unfortunately, the rest of the album isn't as remarkable, though there are moments. I'd Like to Know (featuring Lali Puna) and Natural Resources (featuring Fog) meander a bit too much and don't get really good until the end while Dreams (featuring Mystic Chords of Memory) never quite gets there at all. Roll On with Jenny Lewis sounds like a Watson Twins album outtake filtered through the Atari 2600, while Conor Oberst's guest spot on Breakfast in Bed could have fit in nicely on Digital Ash Digital Urn. In fact, Dumb Luck may sound to some like merely a collection of sometimes-successful "experimental" b-sides from the guest artists. However, repeated listens reveal a distinctive, albeit schizophrenic vision, as drowsy as it may be. In the end; it's only nine songs, try to stay awake.