Cooperstown, NY: You can't kill the real deal. What makes someone devote their lives to unorthodox music, or chasing dreams of family, American glory or devoting daily faith in working to create their own business? Hopefully the answer is passion and integrity.

Cooperstown is all about the true America, in my book. Forget the corporate side of Baseball. The real hymn of spring fever and the American Dream will always live in Cooperstown, even if nowadays Reggie Jackson can get flamed in corporate media channels for disputing the merits of steroid abusers. On a side note, I recently argued with a friend who said plenty of great athletes abused booze or cocaine in Baseball history, so what is the difference. My friend needs to realize the latter don't enhance performance-they probably make it harder, hahaha.

Anyhow, Cooperstown as a location remains picturesque and kind of small scale, antiquated and rural when it could be way more commercialized. Likewise, the subjects of today's article (Brewery Ommegang, Wilco and Lee Ranaldo) remain largely "true" and "pure" despite massive success. This isn't unheard of. A song as unorthodox as "Mother" was written by John Lennon, after all.

There is a romance to the indie rock dream of achieving pseudo "rock stardom" despite the improbability of following your own musical path in a mainstream pop dominated world. There is also romance to the tale of a humble brewery founded by aficionados of Belgian Ales starting up in a gorgeous setting going on to distribute quality product to most of America and beyond. There is a romance to the story of real ball players who come up from scratch and make the big time. "If you build it, they will come". "If you make an amazing beer like Three Philosophers, people will be psyched as hell". "Been through a million kix, looking for the one that sticks". There's a thread here. An undercurrent. It's…risk and honesty.

Dream big and dare to fail. That should be the motto of every athlete, musician and, yes…beer buff. Even better…dream big and start daring/edgy bands with friends and go on to become major, influential touring rock acts, win the World Series, or create a near perfect beer with "Rare Vos". Hey, no one would have watched "Major League" so many times if Wesley, Tom and Charlie hadn't beaten the odds, but yes…"A for effort" effort counts as well. The point is…go for it! All of your heroes did.

Anyhow, I am gonna sip some overly dark coffee at 1 a.m. and try to distill the awesomeness of the Brewery Ommegang 2012 Wilco / Lee Ranaldo Band pow wow. It's a few days later and I am still processing the positives of that show (hence the above few introductory paragraphs). It is just so awesome to think of all the history of the performers, people and the location behind what was a truly great concert. Additionally, I just found out Lee Ranaldo's former Sonic Youth buddy Thurston Moore is now playing with my buddy Stavros of The Atlas Moth and Blake from Nachtmystium in the experimental "black metal" band Twilight. Since I write a lot about extreme metal AND indie/hipster/whatever the fuck music, this news kind of unites the thought waves that dance in my brain and makes the world a bit more sensible to me (though probably not for others). Haters, get lost. Can you dig it? Harmony/disharmony.

Dan Smalls Presents has been bringing major talent to Ommegang this year, and it couldn't be better. With on site camping, bands like Death Cab and Bon Iver playing fan/family friendly events in  a stunning farmland location, these Ommegang shows are an amazing experience not to be missed (I can only imagine how perfect Bon Iver's "Holocene" is sure to sound in this live setting). The   Wilco audience was just as great as the music and numerous people I asked spoke with high praise of how it was a welcome turn of events for better music events to hit the region. I even saw a guy in a Wesley Willis t-shirt and we actually head butted in memory of Wesley!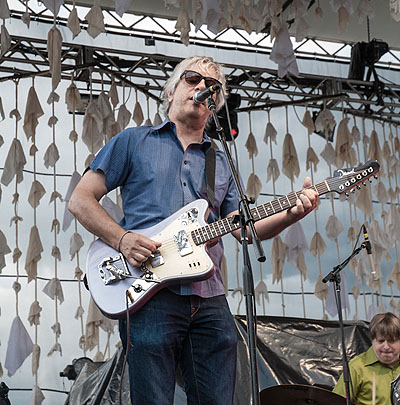 Lee Ranaldo took the stage to rowdy cheers, his signature guitar sound climbing up the valley. The stage was facing a steep heel ringed by trees to form a natural amphitheater, and the sound quality was fantastic. It was odd to see Lee performing without Kim and Thurston of Sonic Youth, though I was really happy to discover Steve Shelley was playing drums with his usual dignified beastliness. The "sidemen" Lee has enlisted, however, are really capable and served as great support as the backbone for Lee's poetic lyrics and inspiring, dreamy yet melancholic riffs.
Supporting the recent Between The Times & The Tides, Ranaldo's set didn't dissappoint.
"Off The Wall" features Lee's best lyrics since "Wish Fulfillment" and it almost feels like Lee's version of a kind of wistful pop song. The line, "These days it's all a question of what matters to you and me" is so simple yet resonant and cuts to the chase. That takes skill. It was also great to witness Ranaldo get out in front and fully captain a group. The marching beat and tidal guitar swells of "Fire Island (Phases)" also thrilled, with unexpected Van Halen (joking) leads melting into country twang meets Velvet Underground drone. The only downer was "Xtina As I Knew Her" which has a cool dissonance but weak lyrics.
Years ago I briefly saw Wilco open for Sonic Youth before I knew much about them, and so scarcely have much of an impression of the first time. Jack Dejohnette was also involved somehow. I think it was Central Park. This Cooperstown show was like an inversion of that minus the jazz and some crucial personnel.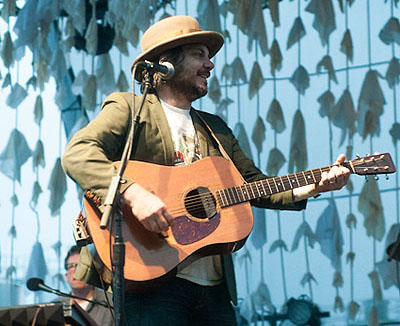 Wilco had the crowd in the palm of their collective hand from the start with bright lights, good vibes and a reservoir of great material to draw from. Jeff Tweedy's knack for understated delivery only enhances the pay off of their equal ability to masterfully execute dynamic shifting bombast. The matter of fact delivery also Being from Woodstock, NY, it is easy for me to be reminded of The Band when I hear the melodic yet rough grace and camaraderie that lives in the Wilco song catalogue. I also think they are kind of the modern Neil Young (sans politics). Wilco are one of the first "alt country/rock" bands (of recent years) to break so big with a rustic yet forward thinking adventurousness. You can hear a similar sense of COHERENT eclecticism in bands ranging from Dirty Projectors to The National, these days.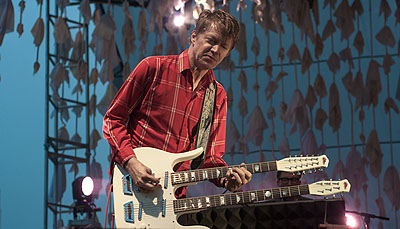 It was exciting to see guitarist Nels Cline live (with Lee and Wilco!). As a Banyan fan and well, just because, I was really psyched to see Nels tear it up. Nels really had command and control, complimenting Tweedy and the rest of the band to a shocking degree. He is such a versatile player and anchors the band in such a complimentary fashion. I have always liked Wilco to some degree, but live they are so much better. Harmonies that sound great on record soar or carry real immediacy. "I'm Always In Love" has bittersweet and stressed out lyrics that still come off as endearing and hopeful, and this translated live.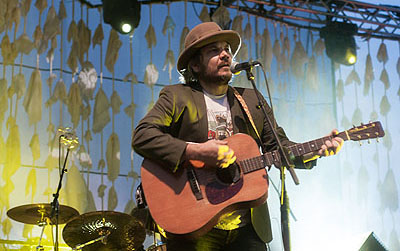 Tweedy talked with and playfully baited the crowd, keeping it cheery and light on stage. Other highlights included the always funny "Heavy Metal Drummer",  the loose and popular in the jam circuit "Handshake Drugs" and the exciting and experimental new "Art Of Almost"
I wish they played "Was I In Your Dreams". It would have been entrancing and complementary in this setting. Still, there was such camaraderie and attentive interaction on stage and between band and crowd that you can hardly voice any complaints.
Read more