I don't like to be suspicious just to be contrary, but I am usually wary of "next big things". Often when something or someone gets really popular all of a sudden, it tends to be more hype than is worth me spending time turning off my trusty Black Sabbath collection to check out whatever the super cool new "must hear/must see" thing in question is. I've been proven wrong. I wouldn't have read Harry Potter books until The Half Blood Prince came out, and then I succumbed and loved the series (though I still haven't watched The Hunger Games).
So yeah, when the super-trendy and N.Y. Times approved artist is a wispy Canadian girl who looks like a gothic fairy and makes hipsters gush, I am even more inclined to want to just lounge around in my underwear listening to Incubus' new (actually awesome) 2x live album like a loser and reading (the criminally little known) Fionavar Tapestry. I would have said Game Of Thrones but I've read that series since the early 00's and…Tyrion kills his own father with a crossbow while he is taking a crap. So there. Now I have spoiled it for you and made myself feel superior.
But, that makes me a hypocrite! I convinced myself that Claire studied Neuroscience, so she must just be really smart and know how to work it. I whined that Fever Ray or Warpaint ought to be more popular or some earnest rockers in plaid (but let's face it, that is just as bad as hipster certified synth pop always getting the green light). But…listening to Visions while writing the last few months, I had to admit it was an amazing record. Quite a grower, for myself at least, but I had to enjoy it on the music's own merits. Ironically, that was the way to free me from becoming what I was suspicious of … a hipster snob with a superiority complex towards anything seemingly overblown. Do I think Grimes is the second coming of Elvis? No. That was Danzig (kinda).
Anyhow, I can safely say that Grimes seems to be really doing things for her own reasons, despite being suddenly beloved by bloggers and cappuccino sippers everywhere. I hope someday if I met her that she would beat me at checkers or something. I like it when artists do things for themselves and without pandering or swiping from others (unless it is true influence/homage or a cool cover song). Let's face it, Bayside aren't going to be getting any extra booty for their new Billy Joel cover, but party on, dudes!
Grimes' dream pop and dark wave blend with scarcely tangible vocals might seem kitschy on paper, but she means it and it is perfect for this cold, autumn weather. Just because it's so listenable doesn't mean it is bad. Beer reps usually call pretty crappy light beer they are trying to sell you "very drinkable", but it actually sucks and is for assholes. This is not the inherent case with Grimes. She makes you reflect upon life and death and…you can dance to it!
Claire brought her show to Hudson, NY with openers Myths and Elite Gymnastics (no photos of the latter). Myths are trippy. See for yourself. And … Upon hearing Elite Gymnastics a week or so before the show I felt like I could fart music like that out in my sleep yet never be as acclaimed because I am not a male model model or fashion designer moonlighting as a musician (despite my inherent sex appeal). Then I researched E.G. more and learned that the remaining dude (it was formerly a duo and they came off as kinda poncey) seems actually pretty down to Earth and cool. I will try to reassess his work and not be biased that I think Pitchfork tends to rave a bit to hard about stuff that us middle of the road (except for when they gave big props to Nas and Leviathan recently).
Anyhow, Hudson is full of antique stores and has recently experienced a hipster influx that has seen cafes pop up like daisies by the dozens. At least there is also a bookstore that sells draft beer while you read. This non-poverty stricken or country folk sub-strata of Hudson's populace was in attendance to the gills.
To sum it all up, Grimes has a new human fan in me and I appreciate that she wore a Marilyn Manson shirt because, let's face it…you aren't winning cool points with beautiful people with that one these days.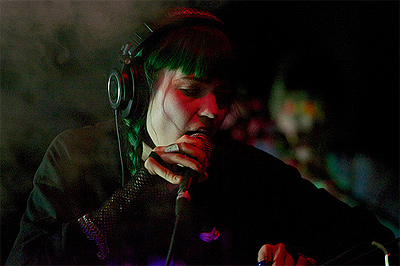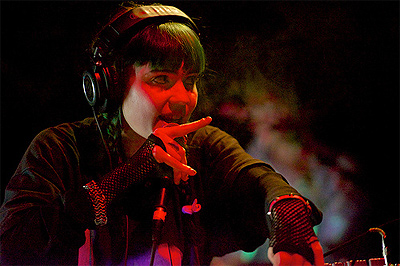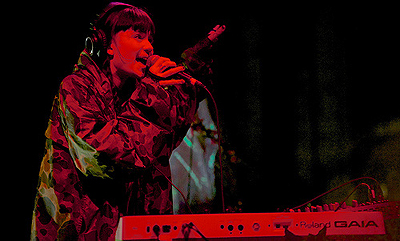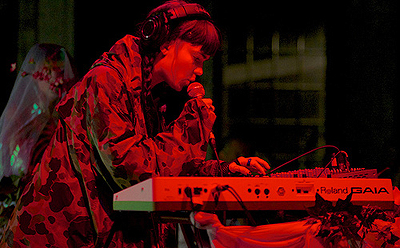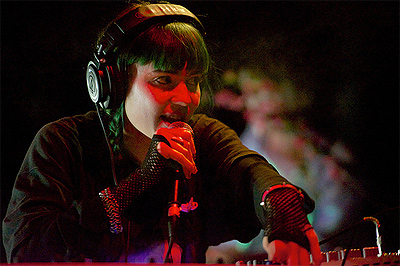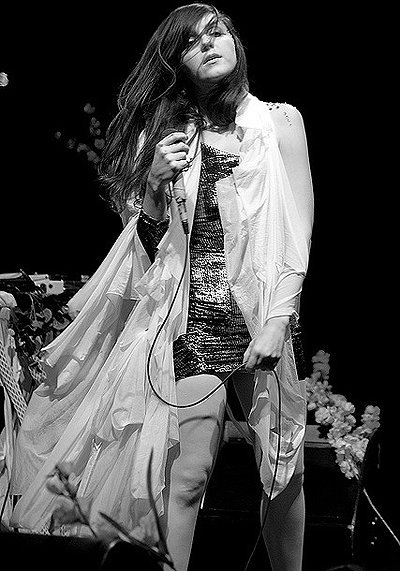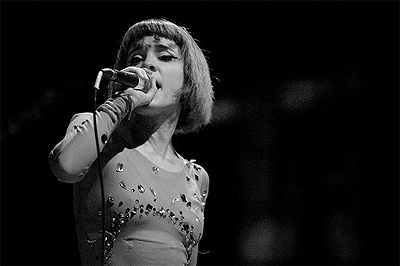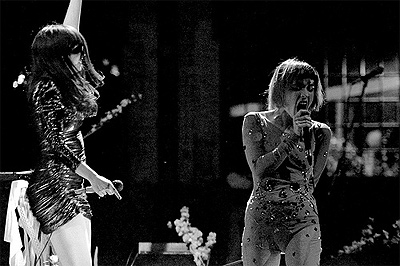 Check out more photos from Chris Rahm below or on Flickr