The Postal Service reunion is happening this weekend at Coachella, and Jimmy Tamborello was the driving creative force behind the indietronica project that quickly moved to "such great heights" with success. He's been a part of so many projects: The Postal Service, Figurine and Dntel primarily but also working with Conor Oberst, Grizzly Bear, Nite Jewel and more. Check out an interview with Jimmy Tamborello in which he talks about how he got started and moved through all of his projects, then catch The Postal Service on the Coachella live stream this weekend!
Twitter hashtag: #spacelabweekend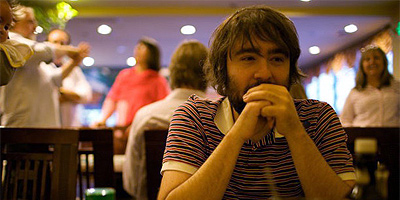 Playlist:
01 - In Which Our Hero Begins His Long And Arduous Quest Dntel Phthalo
02 - High Horses Theme Dntel Phthalo
03 - Casuals Dntel Plug Research
04 - Suddenly Is Sooner Than You Think Dntel Plug Research
05 - Slowdance Dntel Plug Research
06 - (This Is) The Dream Of Evan And Chan Dntel Plug Research
07 - Such Great Heights The Postal Service Sub Pop
08 - To A Fault Dntel Sub Pop
09 - Instrumental Figurine Monika Enterprise
10 - So Futuristic Figurine Monika Enterprise
11 - Aimless Dntel Sub Pop
12 - Paper Landscape Dntel Pampa
13 - Still Dntel Pampa
14 - Santa Ana Winds Dntel Pampa
Check out more streaming music on the Spacelab Media Player, including these channels: Spacelab Weekend, Interviews.
Big Data:
Album: Interviews and Performances