Few bands can lay claim to inventing a genre or style of music -- but Shabazz Palaces have done exactly that. What happens when electronic music is combined with Sun Ra, John Coltrane and a sense of experimentalism is where Shabazz Palaces begins. Palaceer Lanzaro a.k.a. Butterfly from Digable Planets and Baba Maraire talk about teaching themselves to play musical instruments, why they decided to start self-releasing their music, and how things that happen to them on the way to a gig will influence the show by their feeding off what happened and putting that energy into a variation of a performance routine. Shabazz Palaces is described by their label Sub Pop as what music would be like if "Bedouins herded beats instead of goats and settled in Seattle instead of the Atlas Mountains."
The beat will always save us ...
Check out more streaming music on the Spacelab Media Player, including these channels: Spacelab Weekend, Interviews.

Twitter hashtag: #spacelabweekend
Playlist:
1 - Free Press And Curl - Shabazz Palaces - Sub Pop
2 - Blastit At The Homie Rayzer's Charm Lake Plateau Bbq July At Outpalace Pk - Shabazz Palaces - Self-Released
3 - Kill White T, Parable Of The Nigga Who Barrels Stay Hot, Made By Hardkings@freecasino.blk - Shabazz Palaces - Self-Released
4 - Are You...Can You...Were You? (Felt) - Shabazz Palaces - Sub Pop
5 - Gunbeat Falls - Shabazz Palaces - Self-Released
6 - Chuch - Shabazz Palaces - Self-Released
7 - Endeavors - Shabazz Palaces - Sub Pop
8 - An Echo From The Hosts That Profess Infinitum - Shabazz Palaces - Sub Pop
9 - The King's New Clothes Were Made By His Own Hands - Shabazz Palaces - Sub Pop
10 - Youlogy - Shabazz Palaces - Sub Pop
11 - Waking Sasquatch (Live) - Shabazz Palaces - Self-Released
12 - Find Out (Live) - Shabazz Palaces - Self-Released
13 - Swerve… The Reeping of All That Is Worthwhile (Noir Not Withstanding) - Shabazz Palaces - Sub Pop
14 - Yeah You - Shabazz Palaces - Sub Pop
15 - White Electric (Shabazz Palaces Remix) - Battles - Warp Records
16 - Put Some Red On It (Shabazz Palaces Remix) - Spoek Mathambo - Sub Pop
17 - N. Splendored / Find Out - Shabazz Palaces - Self-Released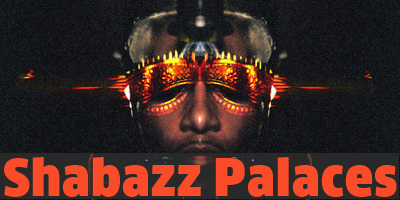 Big Data:
Album: Interviews and Performances