Post-punk Brooklyn band Grooms have a new video for the song "Infinity Caller," off of the album of the same name. Footage was crowd-sourced as a collaboration with animators, and released through Noisey. Check out more about the animators at a Tumblr dedicated to the video. The video was directed by Cora Foxx.
Infinity Caller starts out in a laboratory setting and sets in to the animation when someone starts looking down a microscope. Chad Vangaalen-style animations ensue, and they make a nice visual show, often-times syncing up nicely with the beat of the music. The song itself is tight, a tension filled workout that has A Place To Bury Strangers-style guitar sounds with delay. The band does a cool cover of the song "I Think We're Alone Now."
Noisey also has a full album stream on Soundcloud.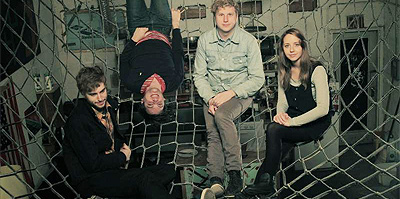 Buy This On: iTunes Amazon
Google Play
InSound
eMusic