The next thing coming up in the Apple release date cycle is the new iPad 5. It's come to light that Apple has an announcement on the date of Oct. 22, and it's likely to talk of the new iPad 5 release date with the iPad Mini and and some their laptop computers. What follows below is a check in on the latest iPad features and specs alongside the juiciest of rumors and news. Your new iPad 5 price is below as well.
We now have an iPad announcement date of Oct. 22, according to AllThingsD, and we could possibly see the new iPad release date within a week or two after that. Oct 22nd is a Tuesday, and Apple has been doing Friday release dates in recent years, so the best bet for a new iPad 5 release date is either Oct. 25 or Nov.1, the two following Fridays.
"People familiar with Apple's plans tell AllThingsD that the company will hold its next invitation-only event on Tuesday, October 22," said John Paczkowski in the AllThingsD announcement.
With both a new iPad 5 and iPad Mini likely to roll out, new iPad features are likely to be split across both devices. The Ipad Mini is due for a retina display upgrade, while the new iPad 5 should include the finger scan security technology that we saw in the iPhone 5s upgrade. It's also likely to have the usual list of new feature that come with every release date: thinner design, smaller bezel, a faster processor (with the new 64-bit A7 chip processor that's in the iPhone 5s) -- but should probably be the same screen size.
It will of course include the new iOS 7 operating system. Anybody developing iPad apps will have to go through the iOS 7 app upgrade to accommodate the new iPad 5. The Inquirer thinks that the new iPad 5 will come in the new white, space grey and gold models that the iPhone 5s was released in. GigaOm has leaked images of a new gold iPad Mini.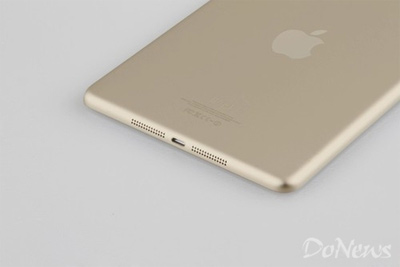 iPad 5 rumors include a possible deal between Apple and China Mobile, partially because that's a deal that's due and it didn't happen for the iPhone 5s release. This is more likely a rumor because it's a common Apple meme and these things get revisited every time Apple releases a new product. To be clear: a China Mobile deal is likely in the future, but I don't think an iPad announcement is the venue for that. The Apple TV rumor is also a rampant one, and the iPad release is more likely to be just about the new iPad 5 and iPad Mini, and possibly other Apple products like computers.
IBT has a bunch new iPad 5 photos based on rumors that have floating around the internet. InformationWeek thinks it's possible to see a slightly larger screen and attachable keyboard, a la what Microsoft Surface offers. They also think Apple Tv could become iOS TV. Google is rumored to changing Google TV to Android TV as well, and TechCrunch thinks so as well.
USA Today is talking up the crazy iWatch thing, but I think it's too early for that. Apple notoriously enters a product line after the first round devices have already been released, opting instead to not waste time trying to be first to market, convert new customers and release a thin product. They'll smartly observe what Samsung et al are doing and improve on that, maybe next year.
Ming-Chi Kuo, an analyst at KGI Securities has just revealed that the iPad 6 for next year will include a 40 percent more pixels and keep the same 9.7-inch screen size. Kuo has a stellar track record and this has been confirmed by AppleInsider, MacRumors and 9to5Mac.
"Contrary to speculation that next year's iPad next year may come in a 12" form, or larger, we think it will not change from the current 9.7" format as we think a 12" iPad would not provide a good mobility experience given today's technology limitations," Kuo said.
Apple notoriously keeps the iPad price the same through each new release cycle, opting to discount the previous iPad to a lower price. The means a new iPad 5 price should be $500 for 16GB, $600 for 32GB, $700 for 64GB and $800 for the 128GB model. Those prices are for the Wi-Fi only model, if you want the capability to add cellular service from AT&T, Sprint or Verizon add another $130 to each of the previous models and you'll have your new iPad 5 price. iPad Minis go for $330 for 16GB, $430 for 32GB and $530 for 64GB. Add the same $130 for an upgrade to add cellular service from AT&T, Sprint or Verizon.
For streaming music and video features, Apple will have to contend with recent new features from Amazon with their X-Ray for Music feature in their Mojito OS, as well as a host of new services from Rdio, Spotify, MOG-turned-Beats Music and Pandora Radio. We're sure to see a full offering of the new iTunes Radio and the new iPad 5, hopefully in an optimized for a bigger screen user experience.
For streaming video, Apple has to contend with a host of streaming video players like Hulu and Netflix, as well as their own Apple TV. I'm curious to if there's any new remote possibilities in how people either control their Apple TV or just mirror their iPad 5 screen to their existing TV to compete with the new Google Chromecast.
So watch in the next week for Apple to make an announcement about the iPad 5 announcement. If it's going to happen on Oct. 2 as predicted, we're likely to see the word Arrive from Apple this week.