If you're developing an app for iPhone for your band, recording label or just to making a music app, you might want to consider making an Android app before an iOS app for iPhone and iPad. Most go for iOS first and make an Android app later, some choose to skip the Android or Windows Phone app altogether. New data shows that this is probably a mistake.
Recent big data from App Annie, a leading source of good information on trends for mobile apps for phones and tablets shows that Android apps are on a long tail trend to overtake iOS apps worldwide.
"Google Play led the iOS App Store in downloads by about 10% in Q2 2013 and Google Play has since expanded that lead to about 25% in Q3 2013. Worldwide iOS App Store downloads were driven by strong growth in China and Russia, but Google Play was still able to grow at a stronger rate from Q2 2013 to Q3 2013" reads the report.
Considering that anyone in music should be focusing on getting their music out to a global audience instead of just a local or national one, this statistic becomes a compelling one.
The strategies for Apple and Google have always been different: Apple has traditionally gone for a premium product (sell at a higher price to less people) while Google has taken the longer path to a mid-level product (sell at an average price to a larger and more open audience, while creating a platform (Android) and letting others create the product).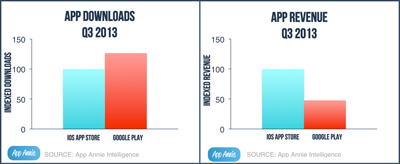 What the graph shows is that downloads of Android Apps on the Google Play App Store are slowly overtaking iOS apps on the iTunes Store, but that Google makes less per app than Apple does. What Google makes shouldn't make a difference to an app developer, for the person trying to reach an audience the most important metric is the size of the pool of people you're trying to reach. Google and Android are consistently proving that they are platform of the near future through consistent growth.
So Apple has the cool platform, and Google and Android have the potentially most far-reaching platform. Windows Phone was panned by a cynical tech blog crowd at the beginning but has consistently proved itself to be a rock solid #3 choice.
So that might be your best strategy right now, and moving forward when making a music app -- go for Android first, then iOS, then Windows Phone & Tablets. Or you could skip the app thing and make website that
uses responsive design
so that it works like an app and automatically gives the user a layout and design of the same information based on what kind of device they're using.