Move over Iceland Airwaves, All Tomorrow's Parties is setting up in your neck of the woods for ATP Iceland. They've skipped the musical hotbed of Reykjavik to settle in at Keflavík. The official ATP Iceland 2015 dates July 9 - 11. The ATP Iceland 2015 lineup and ATP Iceland 2015 tickets are below.
Come back during the festival weekend and after for archived FESTIVAL video performances and live sets. Also check out our Music Festival Videos channel for music festival video coverage.

Listen to a song by clicking on a title below: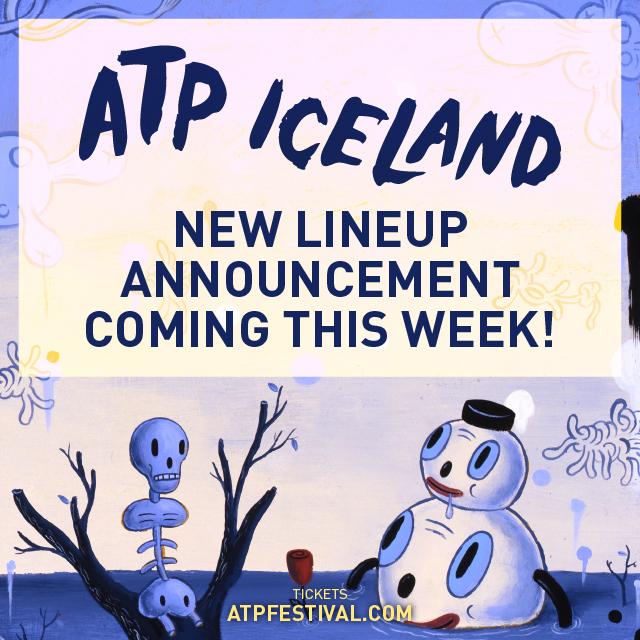 ATP Iceland 2015 news is happening this week!
THURSDAY 2ND JULY
ATLANTIC STUDIOS
Run the Jewels 1:30am - 2:30am
Belle & Sebastian 11:45pm - 1:00am
Iggy Pop 10:00pm - 11:15pm
Public Enemy 8:15pm - 9:30pm
The Bug 6:45pm - 7:30pm
Deafheaven 5:20pm - 6:20pm
Chelsea Wolfe 3:55pm - 4:55pm
Stafrænn Hákon 2:45pm - 3:30pm
ANDREWS THEATRE
Mr Silla 12:45am - 1:30am
Vision Fortune 11:15pm - 12:15am
Kippi Kaninus 9:45pm - 10:30pm
Grisalaplisa 8:15pm - 9:00pm
Tall Firs: 6:45pm - 7:30pm
THE OFFICERS CLUB
DJ Styrmir Dansson 12:00am - 2.30am
ATP DJ's 2.30am - 4:30am
FRIDAY 3RD JULY
ATLANTIC STUDIOS
The Field 2:30am - 3:30am
Godspeed You! Black Emperor 11:30pm - 2:00am
Drive Like Jehu 9:45pm - 10:45pm
Mudhoney 8:15pm - 9:15pm
Clipping. 7:00pm - 7:45pm
Iceage 5:45pm - 6:30pm
Bardo Pond 4:30pm - 5:15pm
White Hills 3:15pm - 4:00pm
Oyama 2:00pm - 2:45pm