The Fuji Rock Festival is set on a ski resort on Mt Fuji in Japan in what has got to be one of the most ideal settings for a music festival - it takes place in a thicket of lush forests, streams, and hills. The Fuji Rock 2014 dates are July 25 - 27. An initial Fuji Rock 2014 lineup and Fuji Rock tickets are below.
Festival goers can watch music on 7 different stages, and the largest can accomodate 30,000 people. They can also take the gondola (renamed the 'Dragondola' for extra special local flavor) to the top of the mountain to hang out in the Day Dreaming & Silent Breeze area for a break and some great vantage points to the surrounding mountains.
Nine Inch Nails (full show) @ Fuji Rock Festival
Fuji Rock Festival Highlights

Fuji Rock Festival documentary video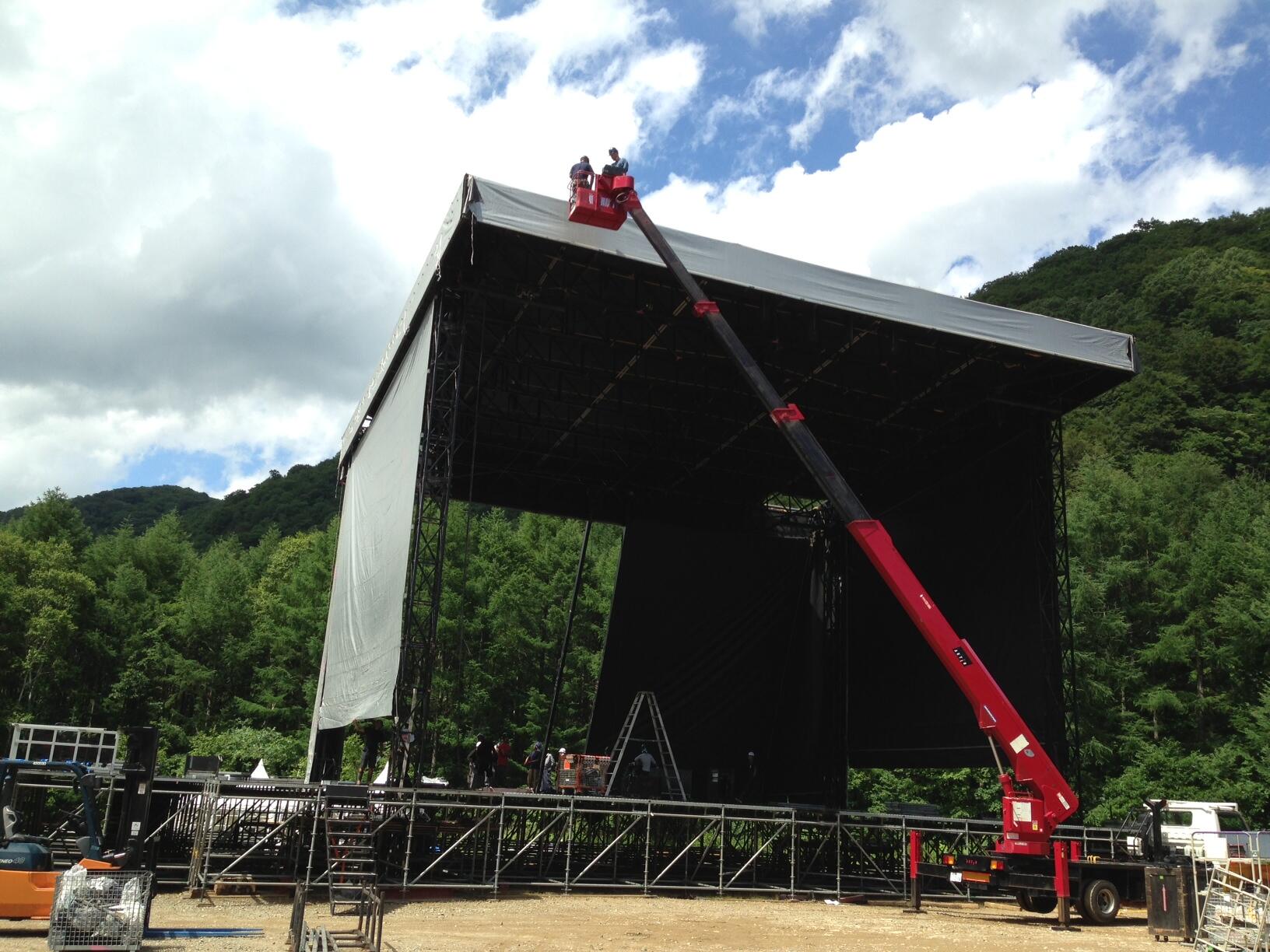 The Fuji Rock stage
One-day ticket: ¥18,300
Three-day ticket: ¥40,000
VIP: ¥¥¥
Friday, July 25

Denki Groove
Basement Jaxx
The Bermondsey Joyriders
Black Kat Boppers
Bombay Bicycle Club
Dachambo
Darkside
Dj Ey∃ (Boredoms) New
First Aid Kit
Floating Points New
Foster The People
Garland Jeffreys
Goldie New
Hunter Hayes
Jacques Greene
James Iha
Jungle
Miyavi
Moe.
Nabowa New
The Orb New
Otomo Yoshihide Special Big Band
Parquet Courts
Rovo And System 7 New
Shank New
Sano Motoharu & The Hobo King Band
Slowdive
Sooo Baad Revue
Steve Nieve - Joe Sumner -
Tall Ulysse - Together
Takahashi Yukihiro With In Phase [James Iha × Takakuwa Kei(Curly Giraffe) × Horie Hirohisa × Gondo Tomohiko × Suzuki Toshiharu]
Talco Temples New
Tresvibes Soundsystem New
The Young Philadelphians New
Saturday, July 26

Arcade Fire
Damon Albarn
Manic Street Preachers
The Band Apart
Biffy Clyro
Boom Pan New
The Bloody Beetroots Live
Claude Vonstroke
The Cro-Magnons
Cyril Hahn
Dubfire
Fanfare Ciocarlia
Gotch
The Heavy
Hikashu With Free Improvisation Summit New
Huun Huur Tu
The Inspector Cluzo
Jake Shimabukuro
Jonathan Wilson
Kato Tokiko
The Lumineers
Man With A Mission
Narasirato
The Novembers New
Overground Acoustic Underground New
Phil Lesh & The Terrapin Family Band
Preservation Hall Jazz Band
The Qemists
Sim
St.Vincent
Travis
Ulfuls
The Waterboys
White Lung
Yoko Ono Plastic Ono Band
Sunday, July 27

Jack Johnson
The Flaming Lips
Outkast
áSgeir
Barbarella'S Bang Bang
Begin
Buffalo Daughter New
Chet Faker New
Downy New
The Heartbreaks
John Butler Trio
Jungle By Night
Kelis
The King All Stars
London Grammar
Lorde
Mr. Scruff New
Norman Watt-Roy
Oboreta Ebi No Kenshihoukokusho (Selected By Rookie A Go-Go)
Ogre You Asshole
Osaka Monaurail
Ozomatli New
The Pains Of Being Pure At Heart
Phono Tones
→Pia-No-Jac←
The Roosters
Sbtrkt
The Ska Flames
The Skatalites
Straightener
The Strypes
Syl Johnson, Bobby Rush &
Lavelle White Soul Music Legends
Tokyo Ska Paradise Orchestra
Trim (Yoshida Minako&Kawai Daisuke Duo Meets Murakami "Ponta" Shuichi
Your Song Is Good New
Yukadan
Who do you want to see in the Fuji Rock Festival 2014 lineup?