Iceland Airwaves wants you to know that the country of Iceland (or more specifically, Reykjavik) is about more than just ice and Björk. To prove it, they've laid out a whole festival of musical hedonism called Iceland Airwaves and invited international acts to play alongside Icelandic acts. The Iceland Airwaves 2014 dates are Nov. 5 - 9. The Iceland Airwaves 2014 lineup is out, and Iceland Airwaves tickets are on sale!
The Kinife has been added to Iceleand Airwaves lineup
Stay up to date on the latest Iceland Airwaves news
The Iceland Airwaves Festival mobile app is available for iPhone and Android.


Come back during the festival weekend and after for archived Iceland Airwaves video performances and live sets. Also check out our Music Festival Videos channel for music festival video coverage.

Watch a video by clicking on a title below:
The Knife has been added to the Iceland Airwaves lineup!
The Iceland Airwaves 2014 lineup poster
Kælan Mikla will be at Iceland Airwaves in 2014
Midlake Band performaing at Iceland Airwaves
Kraftwerk performing at Iceland Airwaves
Sign will be at Iceland Airwaves in 2014
Rocking out at Iceland Airwaves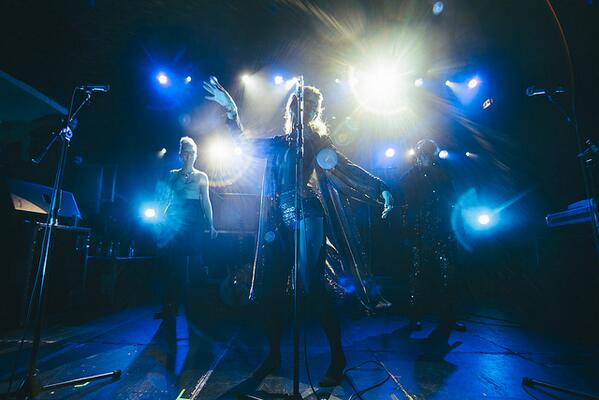 Sísý Ey at Iceland Airwaves
Check out the latest Iceland Airwaves lineup
Jon Hopkins at Iceland Airwaves
Prins Póló at Iceland Airwaves
Dream Central Station at Iceland Airwaves
General Admission: 18.500 KR
VIP: KR
Adult Jazz (UK)
Agent Fresco
Alice Boman (SE)
Ambátt
AMFJ
Árni²
Árstíðir
Atónal Blús
Ballet School (DE)
Beneath
Benny Crespo's Gang
Berndsen
bird
Black Bananas (US)
BLAENAVON (UK)
Brain Police
Caribou (CA)
CeaseTone
Cell7
Conflictions
DADA
DIMMA
Dísa
DÖPUR
East India Youth (UK)
East Of My Youth
EinarIndra
Elín Helena
Emilie Nicolas (NO)
Endless Dark
Epic Rain
Ezra Furman (US)
Farao (NO)
Flaming Lips (US)
FM Belfast
For a Minor Reflection
Fufanu
FURA
Future Islands (US)
Futuregrapher
Girl Band (IE)
Good Moon Deer
Grísalappalísa
HaZaR
Hermigervill
Hozier (IE)
Hymnalaya
ÍKORNI
In The Company Of Men
Inferno 5
Introbeats
Jaakko Eino Kalevi (FI)
Jed & Hera (IS/NZ)
Jessy Lanza (CA)
John Wizards (ZA)
Jungle (UK)
Júníus Meyvant
Just Another Snake Cult
Kaleo
Kelela (US)
kimono
King Gizzard & The Lizard Wizard (AU)
Kippi Kaninus
Kiriyama Family
Klangkarussell (AT)
Kontinuum
KRAKKKBOT
Kwabs (UK)
Kælan Mikla
La Femme (FR)
LaFontaine
Lay Low
Leaves
Lucy in Blue
Mafama
Mammút
Moses Sumney (US)
Muck
My Bubba
Nanook (GL)
Nolo
Odonis Odonis (CA)
Ophidian I
Orchestra of Spheres (NZ)
Oyama
PHOX (US)
PINS (UK)
Prins Póló
Rachel Sermanni (SCO)
Radical Face (US)
Reptilicus
Reykjavíkurdætur
Rökkurró
Roosevelt (DE)
Samaris
Shades Of Reykjavík
Shura (UK)
Sísý Ey
Skurken
Snorri Helgason
Sóley
Son Lux (US)
Spray Paint (US)
Steinar
Stereo Hypnosis
Strigaskór nr 42
Svartidauði
The Knife (SE)
The Mansisters (IS/DK)
The Vintage Caravan
The War on Drugs (US)
Thus Owls (CA)
TINY RUINS (NZ)
Tomas Barfod (DK)
Tonik
Tremoro Tarantura (NO)
Una Stef
Uni Stefson
Unknown Mortal Orchestra (US)
Valdimar
VAR
Vio
Vök
Young Karin
Zhala (SE)
Þórir Georg