The Pitchfork Festival has become a highly regarded music festival with alternative, rap & hip-hop, electronic & dance music. On Twitter it often goes by #pitchforkfest, and the dates for Pitchfork Festival 2014 were July 18 - 20. The Pitchfork Festival 2014 lineup and Pitchfork Festival tickets are below.
Stay up to date on the latest Pitchfork Festival news
The Pitchfork Festival app is available for iPhone, iPad, and Android.
Come back during the festival weekend and after for archived Pitchfork Festival video performances and live sets, as well as learning more about the Pitchfork Music Festival live stream. Also check out our Music Festival Videos channel for music festival video coverage.

Watch a video by clicking on a title below:
deafheaven at Pitchfork Music Festival 2014 (Photo by Matt Lief Anderson)
The crowd at Pitchfork Music Festival 2014 (Photo by Kristina Pedersen)
Sharon Van Etten will be a Pitchfork Music Festival 2014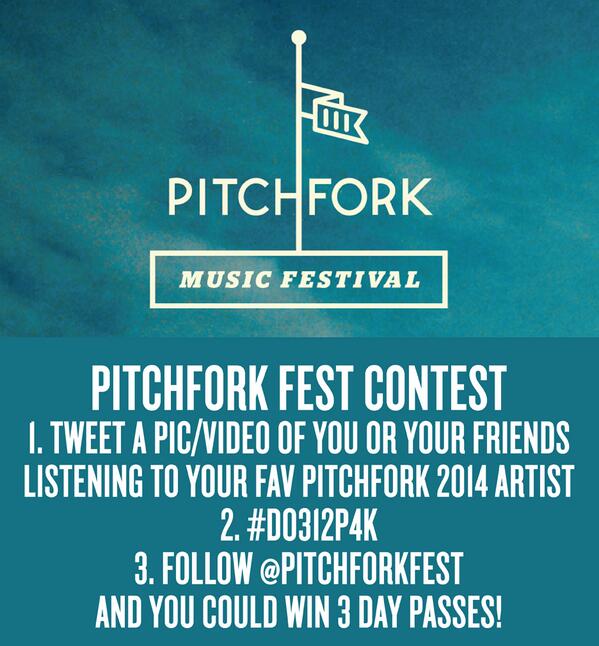 You can win tickets to Pitchfork Festival!
DIIV is in the Pitchfork Music Festival lineup
Onstage at Pitchfork Music Fest
A vinyl-cutting demo at Pitchfork Music Fest
The Pitchfork Music Festival lineup so far
Pitchfork Music Festival is just that good
Will Grimes be at Pitchfork Music Festival 2014?
Toro Y Moi at the Pitchfork Music Festival
Friday:
8:30 Beck (GREEN)
7:20 Giorgio Moroder (RED)
7:15 Avey Tare's Slasher Flicks (BLUE)
6:25 Sun Kil Moon (GREEN)
6:15 SZA (BLUE)
5:30 Sharon Van Etten (RED)
5:15 The Haxan Cloak (BLUE)
4:35 Neneh Cherry (GREEN)
4:15 Factory Floor (BLUE)
3:30 Death Grips (RED)
3:20 Hundred Waters (BLUE)
Saturday:
8:30 Neutral Milk Hotel (GREEN)
7:45 FKA Twigs (BLUE)
7:25 St. Vincent (RED)
6:45 The Field (BLUE)
6:15 Danny Brown (GREEN)
5:45 Kelela (BLUE)
5:15 tUnE-yArDs (RED)
4:45 The Range (BLUE)
4:15 Pusha T (GREEN)
3:45 Mas Ysa (BLUE)
3:20 Cloud Nothings (RED)
2:50 Empress Of (BLUE)
2:30 Wild Beasts (GREEN)
1:55 Circulatory System (BLUE)
1:45 Ka (RED)
1:00 Twin Peaks (GREEN)
Sunday:
8:30pm – Kendrick Lamar (GREEN)
7:45pm – Hudson Mohawke (BLUE)
7:25pm – Grimes (RED)
6:45pm – DJ Spinn (BLUE)
6:15pm – Slowdive (GREEN)
5:45pm – Majical Cloudz (BLUE)
5:15pm – Real Estate (RED)
4:45pm – Jon Hopkins (BLUE)
4:15pm – Schoolboy Q (GREEN)
3:45pm – Dum Dum Girls (BLUE)
3:20pm – Earl Sweatshirt (RED)
2:50pm – Isaiah Rashad (BLUE)
2:30pm – Deafheaven (GREEN)
1:55pm – Perfect Pussy (BLUE)
1:45pm – DIIV (RED)
1pm – Speedy Ortiz (BLUE)
1pm – Mutual Benefit (GREEN)
Who do you want to see in the Pitchfork Music Festival 2014 lineup?