SXSW Music is the gathering that shapes the rest of the year ... check out anybody who'll be somebody at SXSW Music in Austin, Texas. It's a week of shows, discussion panels, schmoozing, new bands, schmoozing, drunkenness while trying to schmooze, etc.
The SXSW Music 2018 dates were March 9 - 18. The SXSW Music 2018 lineup and SXSW Music 2018 tickets are below!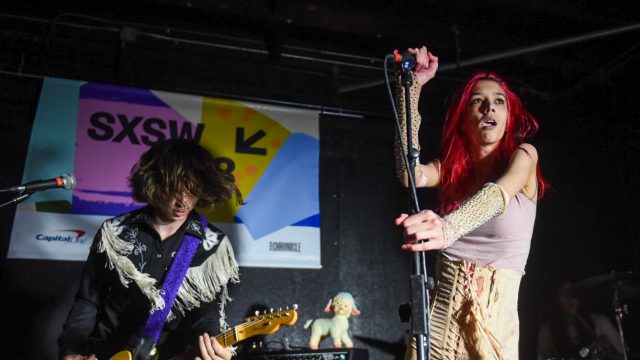 Starcrawler won the The Grulke Prize for Developing U.S. Act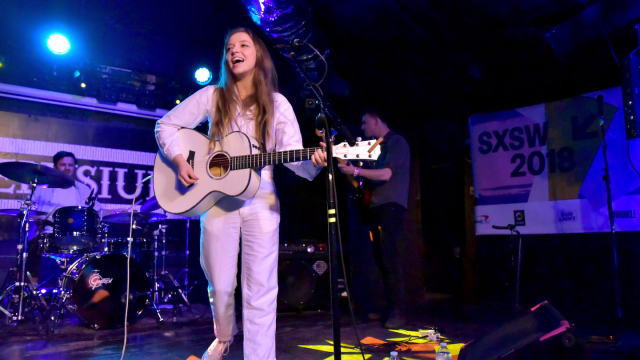 Jade Bird won the The Grulke Prize for Developing Non-U.S. Act
Keynote Speakers
Barry Jenkins
Esther Perel
Whurley
Ta-Nehisi Coates
Featured Speakers
Bob Richards
Ingrid Vanderveldtchairman & CEO
Cleo Wade
Amy Webb
Fei Fei Li
Hasan Minhaj
Savan Kotecha
Mark Cuban
Charlie Rose
Elaine Welteroth
Tim O'Reilly
Fee for Applications & Deadlines:
Currently: $35
After September 9: $55
Final Deadline: October 20
Anyone who submits will be contacted about their status by Jan. 19. If you haven't heard by then, you didn't make it. Try again next year.
"World Music Unleashed" by SIPM (Austin TX)
(Madrid SPAIN)
*repeat repeat (Nashville TN)
1982 (diecinueve ochenta y dos) (Cuenca ECUADOR)
3 Hand Stephen (Portland OR)
A Place to Bury Strangers (Brooklyn NY)
A. Sinclair (Austin TX)
A.CHAL (Los Angeles CA)
Abraham Brody (Vilnius LITHUANIA)
Ace Tee (Hamburg GERMANY)
Acid Dad (New York NY)
Acid Tongue (Seattle WA)
Adahzeh (Kingston JAMAICA)
Adam Torres (Austin TX)
Adron (Atlanta GA)
Aero Flynn (Minneapolis MN)
AHI (Brampton CANADA)
Aiming For Enrike (Oslo NORWAY)
Ainsley Farrell (Newport Beach CA)
Aisha Badru (New York NY)
AJ Tracey (London UK-ENGLAND)
AKA (Johannesurg SOUTH AFRICA)
Akina Adderley & The Vintage Playboys (Austin TX)
Aleman (Cabo San Lucas MEXICO)
Alesia Lani (Austin TX)
Alex Di Leo (Fort Lauderdale FL)
Alex Napping (Austin TX)
Alexalone (Austin TX)
Alexander Jean (Los Angeles CA)
Ali aka Mind (Bogotá COLOMBIA)
Alice Bag (Los Angeles CA)
Alice Ivy (Melbourne AUSTRALIA)
Alice Phoebe Lou (Berlin GERMANY)
Allman Brown (London UK-ENGLAND)
Alsarah & the Nubatones (Brooklyn NY)
Altre di B (Bologna ITALY)
Amy O (Bloomington IN)
Amy Shark (Gold Coast AUSTRALIA)
Andre Cymone (Los Angeles CA)
Andrew Applepie (Berlin GERMANY)
Andrew W.K. (New York NY)
Anemone (Montréal CANADA)
Anna Burch (Detroit MI)
Anna McClellan (Brooklyn NY)
Anna Takeuchi (Kyoto JAPAN)
Anna Wise (Brooklyn NY)
Annabel Allum (Guildford UK-ENGLAND)
Annie Hart (New York NY)
Antytila (Kyiv UKRAINE)
Aries (Bilbao SPAIN)
Arin Ray (Cincinnati OH)
Ashley Henry Trio (London UK-ENGLAND)
Ashley Koett (Denver CO)
Ask Carol (Oslo NORWAY)
ATASH (Austin TX)
Attractions (Fukuoka JAPAN)
Automelodi (Montreal CANADA)
Autostrad Band (Amman JORDAN)
Avatar Darko (Seattle WA)
AveParadiso (Guadalajara MEXICO)
Bad Gyal (Barcelona SPAIN)
Bad Moves (Washington DC)
Bad Pony (Sydney AUSTRALIA)
Bajaga and Instruktori (Belgrade SERBIA)
Balún (Brooklyn NY)
Bambara (Brooklyn NY)
Bang Data (Oakland CA)
Barbara Nesbitt (Austin TX)
Basement (London UK-ENGLAND)
Bat Fangs (Washington DC)
BAUM (Los Angeles CA)
Baywaves (Madrid SPAIN)
BdotCroc (Minneapolis MN)
Beams (Toronto ON)
Beating Heart (London UK-ENGLAND)
BeatKing (Houston TX)
Becca Mancari (Nashville TN)
Belau (Budapest HUNGARY)
Belle Adair (Florence AL)
Ben Aqua (Austin TX)
Benin City (London UK-ENGLAND)
Benji Lewis (Melbourne AUSTRALIA)
Benyaro (Jackson WY)
Beshken (New York NY)
Bethlehem Steel (Brooklyn NY)
Better Person (Berlin GERMANY)
Bifannah (VIGO SPAIN)
Big League (Melbourne AUSTRALIA)
Big White (Sydney AUSTRALIA)
Big Zuu (London UK-ENGLAND)
Billy Strings (Nashville TN)
Billyracxx (Eatonville FL)
Bipolaroid (New Orleans LA)
Blackberries (Solingen GERMANY)
Blackwulf (Oakland CA)
Blake (San Antonio TX)
Blake Brown & The American Dust Choir (Denver CO)
Blessed (Abbotsford CANADA)
Blood Wine or Honey (Hong Kong CHINA)
Bloods (Sydney AUSTRALIA)
Blue Water Highway (Austin TX)
Bobi Andonov (Melbourne WA)
Bodega (Brooklyn NY)
Boggie (Budapest HUNGARY)
Bohemian Betyars (Miskolc HUNGARY)
Boniface (Winnipeg CANADA)
Boogat (Montreal CANADA)
Booher (Austin TX)
Boss Street Brass Band (Austin TX)
Boy Harsher (Northhampton MA)
BOYTOY (Brooklyn NY)
BP Valenzuela (Manila PHILIPPINES)
Breakfast Muff (Glasgow UK-SCOTLAND)
Breaking Forms (Boston MA)
Breanna Barbara (Bradenton FL)
Bri Steves (Philadelphia PA)
Brightness (Newcastle AUSTRALIA)
BRONCHO (Tulsa OK)
Brooke Annibale (Pittsburgh PA)
Brother Sundance (Nashville TN)
Brownout (Austin TX)
Bruno Belissimo (Brescia ITALY)
Bubble Puppy (Austin TX)
Buddy (Compton CA)
BUHU (Austin TX)
C-Kan (Guadalajara MEXICO)
C.Macleod (Stornoway UK-SCOTLAND)
Caddywhompus (New Orleans LA)
Caitlyn Smith (Cannon Falls MN)
Calan Mai (Gold Coast AUSTRALIA)
Caleb Elliott (Natchitoches LA)
Cam (Lafayette CA)
Candace (Portland OR)
Cape Francis (Brooklyn NY)
Capitan Cobarde (Sevilla SPAIN)
Capyac (Austin TX)
Caroline Rose (New York NY)
Carson McHone (Austin TX)
CASEROLOOPS (Barquisimeto VENEZUELA)
Casper Skulls (Toronto CANADA)
Cassandra Jenkins (New York NY)
Castlecomer (Sydney AUSTRALIA)
Catholic Action (Glasgow UK-SCOTLAND)
Cedric Burnside Project (Holly Springs MS)
Centavrvs (Distrito Federal MEXICO)
Ceschi (New Haven CT)
CHAI (Nagoya JAPAN)
Chainska Brassika (London UK-ENGLAND)
Charles Fauna (Brooklyn NY)
Charlie Faye & The Fayettes (Austin TX)
Chelsea Williams (Columbus OH)
Chico Chico (Austin TX)
ChihiroYamazaki+ROUTE14band (Tokyo JAPAN)
Childsaint (AUS) (Perth AUSTRALIA)
Chill Russell (Austin TX)
CHILLEMI (New York NY)
Chloe Foy (Manchester UK-ENGLAND)
Chris Stamey (Chapel Hill NC)
Chrissy (Chicago IL)
Christaux (Milan ITALY)
Christina Rosenvinge (Madrid SPAIN)
Christopher Rees (Llwynypia UK-WALES)
Christy Hays (Austin TX)
Chuck Auerbach (Akron OH)
Cicada Rhythm (Athens GA)
CIFIKA (Seoul SOUTH KOREA)
Cilantro Boombox (Austin TX)
Cirkus Funk (Cali COLOMBIA)
CLARA (Los Angeles CA)
Club de Surf (Santiago CHILE)
Club Night (Oakland CA)
COASTCITY (Puerto Rico PR)
Cold Fronts (Philadelphia PA)
Colin Gilmore (Austin TX)
Collapsing Stars (Minneapolis MN)
Coma Pony (Chihuahua MEXICO)
Combo Chimbita (New York NY)
Common Deer (Toronto CANADA)
Common Holly (Montreal CANADA)
Cones (Los Angeles CA)
Copeland (Lakeland FL)
Corridor (Montreal CANADA)
Cotton Mather (Austin TX)
Courtney Marie Andrews (Phoenix AZ)
Creepside (San Antonio TX)
Crumb (Brooklyn NY)
Crunk Witch (Presque Isle ME)
Crush (Seoul SOUTH KOREA)
Cuco (Hawthorne CA)
Cuddle Magic (New York NY)
Culture Wars (Austin TX)
Cure For Paranoia (Dallas TX)
Current Joys (Los Angeles CA)
Cursed Earth (Perth AUSTRALIA)
Curtis McMurtry (Austin TX)
Curtis Roush (Austin TX)
Curved Light (Austin TX)
Cut Chemist (Los Angeles CA)
Cut Worms (Brooklyn NY)
Da Chick (Lisboa PORTUGAL)
Daggy Man (Brisbane AUSTRALIA)
Damien McFly (Padova ITALY)
Dan Bettridge (Bridgend UK-WALES)
Dan Lyons (Margate UK-ENGLAND)
Dante Elephante (Los Angeles CA)
Dark Time Sunshine (Seattle WA)
Darkbird (Austin TX)
David Halley (Austin TX)
David Ramirez (Austin TX)
Dawg Yawp (Cincinnati OH)
De Osos (Mexico City MEXICO)
Dead Horses (Milwaukee WI)
Dead Leaf Echo (Brooklyn NY)
Dean Lewis (Sydney AUSTRALIA)
Deanna Wheeler (Austin TX)
Dear Rouge (Vancouver CANADA)
Death Bells (Sydney AUSTRALIA)
Death Hags (Los Angeles CA)
Deezie Brown (Austin TX)
Deluxe (Aix-En-Provence FRANCE)
Denis The Night & The Panic Party (Fano ITALY)
Dennis Kalla (Luleå SWEDEN)
Derian (Tampico MEXICO)
Dermot Kennedy (Dublin IRELAND)
Descartes A Kant (Guadalajara MEXICO)
Dezorah (McAllen TX)
Dhruv Visvanath (New Delhi INDIA)
Dick Stusso (Oakland CA)
Didi (Columbus OH)
Didirri (Melbourne AUSTRALIA)
Dimpker Brothers (Västervik SWEDEN)
Dirgahayu (Kuala Lumpur MALAYSIA)
Distractor (Costa Mesa CA)
Divide And Dissolve (Melbourne AUSTRALIA)
Dizzy (Oshawa CANADA)
DJ DOLLAR SENEGAL (Dakar SENEGAL)
DJ Grip (Austin TX)
DJ HALO (Oakland CA)
DJ Jigüe and El Menor (Havana CUBA)
DJ Rosegold (Toronto CANADA)
Doc Daneeka (Swansea UK-WALES)
Doe (London UK-ENGLAND)
Domico (Tokyo JAPAN)
Don Trip (Memphis TN)
DopeKnife (Savannah GA)
Dot (Los Angeles CA)
Double Ferrari (Athens GA)
DPR LIVE (Seoul SOUTH KOREA)
Draper (London UK-ENGLAND)
Dre Prince (Austin TX)
Dressy Bessy (Denver CO)
Duckwrth (Los Angeles CA)
Duncan Fellows (Austin TX)
Dwagie (Tainan City TAIWAN)
DYGL (Tokyo JAPAN)
Dylan Cameron (Austin TX)
E-Turn (Orlando FL)
Earthgang (Atlanta GA)
Ed Schrader's Music Beat (Baltimore MD)
Efek Rumah Kaca (Jakarta INDONESIA)
Egrets On Ergot (Los Angeles CA)
Ehiorobo (Freehold NJ)
El Freaky (Bogotá COLOMBIA)
El Mató A Un Policia Motorizado (La Plata ARGENTINA)
El Otro Borges (Buenos Aires ARGENTINA)
El Otro Grupo (Santa Marta COLOMBIA)
El Tambor de la Tribu (Guatemala City GUATEMALA)
Elephant Stone (Montreal CANADA)
Elle Exxe (Edinburgh UK-SCOTLAND)
Ellevator (Hamilton CANADA)
ELSZ (Sydney AUSTRALIA)
Emily Duff (New York NY)
EmiSunshine (Madisonville TN)
Emma Elisabeth (Berlin GERMANY)
Emma White (Nashville TN)
Emme Woods (Glasgow UK-SCOTLAND)
Entropica (Santiago CHILE)
Erika Wennerstrom (Austin TX)
ESKA (London UK-ENGLAND)
España Circo Este (Forlì ITALY)
Estado de Sitio (Lima PERU)
Estúpida Erikah (Barcelona SPAIN)
Eureka California (Athens GA)
Ex-Girlfriends (Brooklyn NY)
Ezra Collective (London UK-ENGLAND)
Ezra Furman (Chicago IL)
Fabrizio Cammarata (Palermo ITALY)
FAIRE (Paris FRANCE)
Faith Healer (Edmonton CANADA)
Farao (Ulnes NORWAY)
Farina (Medellin COLOMBIA)
Farrows (Asbury Park NJ)
Fastball (Austin TX)
Fatai (Melbourne AUSTRALIA)
Faux Ferocious (Nashville TN)
FAVX (Madrid SPAIN)
Febueder (Ascot UK-ENGLAND)
Fenster (Berlin GERMANY)
field trip (New York NY)
Filipe Catto (Porto Alegre BRAZIL)
Fis and Rob Thorne (Palmerston North NEW ZEALAND)
Flasher (Washington DC)
Floating Room (Portland OR)
Flyte (London UK-ENGLAND)
Fntxy (Tijuana MEXICO)
Forever (Montreal CANADA)
FOXTRAX (New York NY)
Foyone (Malaga SPAIN)
Fragile Rock (Austin TX)
Francobollo (London UK-ENGLAND)
Frank Turner (Winchester UK-ENGLAND)
Freedom Fry (Los Angeles CA)
Freedom Hawk (Virginia Beach VA)
French Vanilla (Los Angeles CA)
FRIGS (Toronto CANADA)
Frontier Folk Nebraska (Cincinnati OH)
Fruit & Flowers (Brooklyn NY)
Fuglar (Santiago CHILE)
Fym Summer (Singapore SINGAPORE)
G Yamazawa (Durham NC)
Gabriel Wolfchild & Northern Light (Seattle WA)
Gabylonia (Caracas VENEZUELA)
Gang of Youths (Sydney AUSTRALIA)
GANGES (Madrid SPAIN)
Gatecreeper (Phoenix AZ)
Gato Preto (Düsseldorf GERMANY)
Gaz Coombes (Oxford UK-ENGLAND)
Gemma Ray (Berlin GERMANY)
Genocide Pact (Washington DC)
Ghost Twin (Winnipeg CANADA)
Gina Chavez (Austin TX)
Girl Ray (London UK-ENGLAND)
Girlyboi (Los Angeles CA)
Go Fever (Austin TX)
Goat Girl (London UK-ENGLAND)
Gordi (Canowindra AUSTRALIA)
Gothic Tropic (Los Angeles CA)
Grace Joyner (Charleston SC)
Gracie and Rachel (Brooklyn NY)
Graham Reynolds (Austin TX)
Graham Reynolds and the Golden Arm Trio (Austin TX)
Grand Analog (Toronto CANADA)
Grandchildren (Philadelphia PA)
Great Electric Quest (San Diego CA)
Greenbeard (Austin TX)
Greyhounds (Austin TX)
Greys (Toronto CANADA)
Grim Streaker (Brooklyn NY)
Grounders (Toronto CANADA)
Grupo Fantasma (Austin TX)
Grupo Rebolu (Colombia NY)
Guantanamo Baywatch (Portland OR)
Gulfer (Montreal CANADA)
Gurr (Berlin GERMANY)
Gus Dapperton (New York NY)
Guts Club (New Orleans LA)
Haex (Los Angeles CA)
Hajk (Oslo NORWAY)
Haley Heynderickx (Portland OR)
Hannah Eggen (Southampton BERMUDA)
Hans Nayna (Mahebourg MAURITIUS)
Hardy Caprio (London UK-ENGLAND)
Harpooner (Nashville TN)
Harry Pane (Northamptonshire UK-ENGLAND)
Harry Zimm (Denton TX)
Harvey McLaughlin (San Antonio TX)
Hatchie (Brisbane AUSTRALIA)
Hater (Malmo SWEDEN)
Hazel English (Oakland CA)
Heartstreets (Montreal CANADA)
Helena Deland (Montreal CANADA)
Hembree (Kansas City MO)
Henry Brun & the Latin Playerz (San Antonio TX)
Hety And Zambo (San Andres Island COLOMBIA)
HEX (Wellington NEW ZEALAND)
Hiccup (Brooklyn NY)
High Waisted (New York NY)
Higher Brothers (Chengdu CHINA)
Himalayas (Cardiff UK-WALES)
Hinds (Madrid SPAIN)
Hollis Brown (Queens NY)
Holly Miranda (Detroit NY)
Holy Bouncer (Barcelona SPAIN)
Holy Boy (Los Angeles CA)
Holy Motors (Tallinn ESTONIA)
Honduras (Brooklyn NY)
Hot Flash Heat Wave (San Francisco CA)
Hovvdy (Austin TX)
Hugo "Poyo" Segovia (Monterrey MEXICO)
Hunter Sharpe (Austin TX)
Husky Loops (London UK-ENGLAND)
HUXLEE (Los Angeles CA)
Hypoluxo (Brooklyn NY)
Hyukoh (Seoul SOUTH KOREA)
I am waiting for you last summer (Ryazan RUSSIA)
IAMDDB (Manchester UK-ENGLAND)
Ian Moore (Austin TX)
IAN SWEET (Los Angeles CA)
II Tone (Memphis TN)
India Ramey (Nashville TN)
Indrajit Banerjee (Austin TX)
INHEAVEN (London UK-ENGLAND)
Invoke (Austin TX)
Ismael Ayende (Bogotá COLOMBIA)
Izzy True (Trumansburg NY)
J.I.D (Atlanta GA)
Jack Freeman (Houston TX)
JadaL (Amman JORDAN)
Jade Bird (Smallfield UK-ENGLAND)
Jade Imagine (Melbourne AUSTRALIA)
Jade Jackson (Santa Margarita CA)
Jaguwar (Dresden GERMANY)
Jaimee Harris (Austin TX)
Jake Lloyd (Austin TX)
James Swanberg (Chicago IL)
Jared & the Mill (Phoenix AZ)
Jarv Dee (Seattle WA)
Jay Park (Seoul SOUTH KOREA)
Jazzy Amra (Bronx NY)
Jean Caffeine (Austin TX)
Jeff Plankenhorn (Austin TX)
Jerry Williams (Portsmouth UK-ENGLAND)
Jess Ribeiro (Melbourne AUSTRALIA)
Jiggy Drama (San Andres Island FL)
Joan Thiele (Desenzano del Garda ITALY)
Joasihno (Munich GERMANY)
Joe Crepúsculo (Barcelona SPAIN)
Joey Dosik (Los Angeles CA)
Johanna Warren (Portland OR)
John Craigie (Portland OR)
John Grvy (Madrid SPAIN)
John Jacob Magistery (Montreal CANADA)
John Moods (Berlin GERMANY)
Joji (Tokyo JAPAN)
Jon Dee Graham (Austin TX)
Jon Langford's Four Lost Souls (Chicago IL)
Jonathan Tyler (Nashville TN)
Jonny 8 Track (Brighton UK-ENGLAND)
Josh T. Pearson (Austin TX)
Joshua Burnside (Belfast UK-N IRELAND)
Joshua Hedley (Nashville TN)
José Biggs (Santiago CHILE)
JP The Wavy (Tokyo JAPAN)
Juan de Fuca (Athens GA)
Juan Ingaramo (Buenos Aires ARGENTINA)
Juanita Stein (Sydney AUSTRALIA)
Juiceboxxx (Milwaukee WI)
Julia Lucille (Austin TX)
Julietta (New York NY)
Junglepussy (New York NY)
Junior Flexwell (Austin TX)
Justin Michael Williams (Los Angeles CA)
Jóvenes Adultos (Mexico City MEXICO)
Kalu & The Electric Joint (Austin TX)
Kamau Kenyatte (New York NY)
KANGA (Los Angeles CA)
KARD (Seoul SOUTH KOREA)
Kari Faux (Little Rock AR)
Kate Auringer (Denton TX)
Kathryn Legendre (Austin TX)
Katie von Schleicher (Brooklyn NY)
Kay Odyssey (Austin TX)
Keelan Donovan (Portland ME)
Keith Ape (Seoul SOUTH KOREA)
Kelly Willis (Austin TX)
Kelvyn Colt (Bingen GERMANY)
Kemba (Bronx NY)
Kenny Allstar (London UK-ENGLAND)
Kenny Gee (Austin TX)
Kevin Krauter (Indianapolis IN)
Kids N Cats (Vienna AUSTRIA)
Kiho (Otaru JAPAN)
Kimokal (Jakarta INDONESIA)
Kings of the beach (Vigo SPAIN)
Kino Kimino (New York NY)
Knox Fortune (Chicago IL)
KOLARS (Los Angeles CA)
Kosha Dillz (Perth Amboy NJ)
Kraus (New York NY)
Kristoff Krane (Minneapolis MN)
Kyle Avallone (New York NY)
La Banda Morisca (Andalucía SPAIN)
La Cafetera Roja (Paulhaguet FRANCE)
La Cuneta Son Machín (Managua NICARAGUA)
La Etnnia (Bogota COLOMBIA)
La Fragua Band (Medellín COLOMBIA)
La Luz (Los Angeles CA)
La Misa Negra (Oakland CA)
La Orquesta Vulgar (Mexico City MEXICO)
LaBaq (São Paulo BRAZIL)
Lachane (Austin TX)
Lali Puna (Munich GERMANY)
LANNDS (Jacksonville FL)
LAPS (Glasgow UK-SCOTLAND)
Las Diferencias (Caseros ARGENTINA)
Lauren Ashley and The Trainwreckers (Griffin GA)
Le Couleur (Montreal CANADA)
Le Galaxie (Dublin IRELAND)
Leather Girls (Austin TX)
Lee Bains III + The Glory Fires (Birmingham AL)
Lee Hi (Bucheon SOUTH KOREA)
Leni Stern (New York NY)
Leon Of Athens (Athens GREECE)
Lethal Bizzle (London UK-ENGLAND)
Leyya (Vienna AUSTRIA)
Lido Pimienta (Toronto CANADA)
Lil Wop (Chicago IL)
Lime Cordiale (Sydney AUSTRALIA)
Line Upon Line Percussion (Austin TX)
LIP (Austin TX)
Lisa LeBlanc (Montreal CANADA)
Little Mazarn (Dallas TX)
Living Hour (Winnipeg CANADA)
Liz Cooper and the Stampede (Nashville TN)
Liza Anne (Nashville TN)
Lizzie No (Brooklyn NY)
LNG/SHT (Cancun MEXICO)
Lo Country (Austin TX)
Lo Moon (Los Angeles CA)
Lois (Madrid SPAIN)
Lola Kirke (New York NY)
LOLA Local Opera Local Artists (Austin TX)
Lola Marsh (Tel Aviv ISRAEL)
Lolo Lovina (Sydney AUSTRALIA)
Lomelda (Silsbee TX)
Look Vibrant (Montreal CANADA)
Lorine Chia (Bamenda CAMEROON)
Los Chinchillos Del Caribe (Puerto Rico PR)
Los Wilds (Madrid SPAIN)
Lou Rebecca (Paris FRANCE)
Lovelytheband (Los Angeles CA)
Low (Duluth MN)
Loyal Lobos (Los Angeles CA)
Lucy Rose (London UK-ENGLAND)
Lucy Spraggan (Manchester UK-ENGLAND)
LUFO (CALI COLOMBIA)
Luna Lee (Seoul SOUTH KOREA)
Luneta Mágica (Manaus BRAZIL)
Lung (Cincinnati OH)
LYLO (Glasgow UK-SCOTLAND)
Löwin (Austin TX)
MACHINA (Minato-ku JAPAN)
MADDEE (Toronto CANADA)
Madison Cunningham (Orange County CA)
Madison McFerrin (New York NY)
Magna Carda (Austin TX)
Maiah Manser (Los Angeles CA)
Makana (Honolulu HI)
Makeness (London UK-ENGLAND)
Mako (Los Angeles CA)
Mal Blum and The Blums (Brooklyn NY)
Mala Bengala (Bogotá COLOMBIA)
Mallrat (Brisbane AUSTRALIA)
Mama Duke (Austin TX)
Manatee Commune (Seattle WA)
MANEKA (Brooklyn NY)
Mannequin Pussy (Philadelphia PA)
Mantra (London UK-ENGLAND)
Manu Lanvin (Lyon FRANCE)
Margo Sanda (Brescia ITALY)
Marla Brown (London UK-ENGLAND)
MARLENE (Stockholm SWEDEN)
Marlon Williams (Christchurch NEW ZEALAND)
Marrón (Acapulco MEXICO)
Marshmallow Coast (Athens GA)
Marty O'Reilly (Santa Cruz CA)
Mary Ocher (Berlin GERMANY)
Maréh (Cali COLOMBIA)
Mattiel (Atlanta GA)
Mauno (Halifax CANADA)
Maurice Kirya (Kampala UGANDA)
Max Richter (London UK-ENGLAND)
MC Lars (Berkeley CA)
Meanswell (Austin TX)
Mejor Actor De Reparto (Buenos Aires ARGENTINA)
Melenas (Pamplona SPAIN)
Melo Makes Music (Chicago IL)
Melymel (Santo Domingo DOMINICAN REPUBLIC)
Men I Trust (Montreal CANADA)
Michael Rault (Montreal CANADA)
MIDDLESPOON (Austin TX)
Mika Shinno (Tokyo JAPAN)
Mikaela Davis (Rochester NY)
MIKNNA (Los Angeles CA)
Milk & Bone (Montreal CANADA)
MINT FIELD (Tijuana MEXICO)
Miqui Brightside (DJset)
Miss Eaves (Brooklyn NY)
MNKYBSNSS (Bogota COLOMBIA)
Moaning (Los Angeles CA)
Mobley (Austin TX)
Mogli (Hamburg GERMANY)
Mokoomba (Victoria Falls ZIMBABWE)
Molly Burch (Austin TX)
Mondragon (Mexico City MEXICO)
Monte Warden and The Dangerous Few (Austin TX)
Moodie Black (Minneapolis MN)
Moon King (Detroit MI)
Moonbeau (Cincinnati OH)
Moonlight Breakfast (Bucharest ROMANIA)
Moonwalks (Detroit MI)
morgxn (Nashville TN)
Moses Boyd Solo Exodus (London UK-ENGLAND)
Motel Raphael (Montréal CANADA)
Mother Falcon (Austin TX)
Mothers (Athens GA)
Mothership (Dallas TX)
Mountain Time (Austin TX)
Moving Panoramas (Austin TX)
Mozart La Para (Las Minas DOMINICAN REPUBLIC)
Mr Gabriel (Nashville TN)
Mr Little Jeans (Los Angeles CA)
Mr. Lewis and The Funeral 5 (Austin TX)
Mr. Paradise (Villa Duarte DOMINICAN REPUBLIC)
Mr.Kitty (Austin TX)
Mt. Joy (Philadelphia PA)
Muntchako (Brasília BRAZIL)
Museless (Barcelona SPAIN)
My Life as Ali Thomas (Bangkok THAILAND)
Nadia Rose (London UK-ENGLAND)
NADINE (Minneapolis MN)
Naked Giants (Seattle WA)
Nakury (San Pedro COSTA RICA)
Nassau (Brooklyn NY)
Nat Simons (Getafe SPAIN)
Nation of Language (Brooklyn NY)
Navy Gangs (Brooklyn NY)
Nea Agostini (Saniago CHILE)
Neuman (Granada SPAIN)
New Fame (Da Nang VIETNAM)
NHD – Nourallah Harvey Dezen (Dallas TX)
Night Beats (Austin TX)
Night Moves (Minneapolis MN)
Nilüfer Yanya (London UK-ENGLAND)
Nina Nesbitt (London UK-ENGLAND)
NITE (Dallas TX)
NIX (Dakar SENEGAL)
Nnamdi Ogbonnaya (Chicago IL)
No Vacation (San Francisco CA)
NO WIN (Los Angeles CA)
NoMBe (Los Angeles, CA)
Non M'importa Della Luna (Santiago CHILE)
Not3s (Hackney UK-ENGLAND)
nothing,nowhere. (Boston MA)
Novella Inc (Santiago CHILE)
Now, Now (Minneapolis MN)
NOX BOYS (Blawnox PA)
Nubya Garcia (London UK-ENGLAND)
Numb.er (Los Angeles CA)
NVDES (Los Angeles CA)
NÄM (Austin TX)
Núria Graham (Barcelona SPAIN)
Oak House (Athens GA)
Obliques (New York NY)
October (Auckland NEW ZEALAND)
Okey Dokey (Nashville TN)
Okkervil River (New York NY)
Oliver Rajamani (Austin TX)
Oliver Riot (Los Angeles CA)
Omni (Atlanta GA)
Ona (Huntington WV)
ONR (Glasgow UK-SCOTLAND)
ORB (Geelong AUSTRALIA)
Ori Dagan (Toronto CANADA)
Otzeki (London UK-ENGLAND)
Ought (Montreal CANADA)
Our Girl (London UK-ENGLAND)
OY (Berlin GERMANY)
P Montana (London UK-ENGLAND)
Pale Waves (Manchester UK-ENGLAND)
Palm (Philadelphia PA)
Palo Duro (Austin TX)
Panic Priest (Chicago IL)
Papachina (Armenia COLOMBIA)
Papisa (São Paulo BRAZIL)
PAPÁ BOCÓ (Pereira COLOMBIA)
Pardoner (San Francisco CA)
Parrot Dream (Brooklyn NY)
Parsonsfield (Leverett MA)
Part Time (San Francisco CA)
Particle Devotion (Baton Rouge LA)
Partner (Windsor CANADA)
Paul Cauthen (Tyler TX)
PAYAMBÓ (Bogotá COLOMBIA)
Peach Pit (Vancouver CANADA)
Pearl Charles (Los Angeles CA)
Pearl Earl (Denton TX)
Pedro Menendez Fusion Ensemble (Buenos Aires ARGENTINA)
Perel (Berlin GERMANY)
Peter Oren (Columbus IN)
Peterson Brothers (Bastrop TX)
pH-1 (Seoul SOUTH KOREA)
Phe Reds (Seattle WA)
Pia Fraus (Tallinn ESTONIA)
Pierre Kwenders (Montreal CANADA)
Pink Mexico (Brooklyn NY)
Pink Milk (Gothenburg SWEDEN)
Pixel Grip (Chicago IL)
Pkew Pkew Pkew (Toronto CANADA)
Planet Booty (Oakland CA)
Plastic Picnic (Brooklyn NY)
Plastic Pinks (Miami FL)
Playa Gótica (Santiago CHILE)
Pneuma (San Jose COSTA RICA)
PoeTeK (Taipei TAIWAN)
Pommez Internacional (Buenos Aires ARGENTINA)
Ponytrap (Austin TX)
Popstitute (Medellin COLOMBIA)
Porches (New York NY)
Post Animal (Chicago IL)
Pow Pow Family Band (New York NY)
Prairie WWWW (Taipei TAIWAN)
PRANKROOM (Kawasaki City JAPAN)
Pretty City (Melbourne AUSTRALIA)
Prinz Grizzley and his Beargaroos (Egg AUSTRIA)
Promiseland (New York NY)
pronoun (Brooklyn NY)
Public Access T.V. (New York NY)
Punjabtronix (Bristol UK-ENGLAND)
Pure Bathing Culture (Portland OR)
Qais Essar (Phoenix AZ)
Queen Moo (East Hartford CT)
Queen of Jeans (Philadelphia PA)
Quiet Kids (McAllen TX)
Quiet Slang (Philadelphia PA)
Quin NFN (Austin TX)
Quique Escamilla (Toronto CANADA)
R.LUM.R. (Nashville TN)
R3LL (Irvington NJ)
Rachel K Collier (Swansea UK-WALES)
Rachele Andrioli e Rocco Nigro (Lecce ITALY)
Ramesh (Austin TX)
Ramirez Exposure (Valencia SPAIN)
RAMONA (Tijuana MEXICO)
Rancho Aparte (Quibdó COLOMBIA)
Range Emotion (Austin TX)
Rapsody (Snow Hill NC)
Rat Fancy (Los Angeles CA)
Ratboys (Chicago IL)
Rattletree (Austin TX)
Rayland Baxter (Nashville TN)
Raz Simone (Seattle WA)
Reg Bloor (New York NY)
Remna Schwarz (Praia CAPE VERDE)
Residual Kid (Austin TX)
Rev. Sekou (St Louis MO)
Revolver Plateado (Bogotá COLOMBIA)
Rhys Lewis (London UK-ENGLAND)
Rich Chigga (Jakarta INDONESIA)
Riley (New York NY)
Rita Coolidge (Nashville TN)
Rob Gullatte (Houston TX)
Roberta Campos (São Paulo BRAZIL)
Rocky Banks (Houston TX)
Rome Is Not A Town (Gothenburg SWEDEN)
Ron Gallo (Nashville TN)
Ronnie Heart (Fort Worth TX)
Royal Teeth (New Orleans LA)
Ruby Boots (Perth WA)
Ruby Fatale 鹿比 ∞ 吠陀 (Taipei TAIWAN)
Ruby Fields (Cronulla AUSTRALIA)
Ruby Haunt (Laguna Beach CA)
Rude Kid (London UK-ENGLAND)
Rude-α (Setagaya-ku JAPAN)
RVG (Melbourne AUSTRALIA)
SadGirl (Los Angeles CA)
Sahad and The Nataal Patchwork (Dakar SENEGAL)
Said The Whale (Vancouver CANADA)
Saint Sister (Dublin IRELAND)
Saintseneca (Columbus OH)
Salem's Bend (Los Angeles CA)
Salomón Beda (Miami FL)
Sam Fender (Newcastle Upon Tyne UK-ENGLAND)
Samantha Glass (Madison WI)
Sammus (Ithaca NY)
Samurai Champs (Saskatoon CANADA)
Sangat! (Karachi PAKISTAN)
Sangpuy (Taitung TAIWAN)
Sara Ontaneda (Queens NY)
Sara Pi (Barcelona SPAIN)
Sarah Klang (Gothenburg SWEDEN)
Sarah Shook & The Disarmers (Chapel Hill NC)
Sarahmée (Montreal CANADA)
sarasara (Lille FRANCE)
Sassy 009 (Oslo NORWAY)
Say Sue Me (Busan SOUTH KOREA)
Scenic Route to Alaska (Edmonton CANADA)
Scott Collins (Austin TX)
Scott H. Biram (Austin TX)
Sea Moya (Mannheim GERMANY)
Season to Risk (Kansas City MO)
Seis Pistos (Chihuahua MEXICO)
SEND MEDICINE (Los Angeles CA)
Shame (London UK-ENGLAND)
Shamir (Las Vegas NV)
Sharkmuffin (Brooklyn NY)
She Sir (Austin TX)
Shell of a Shell (Nashville TN)
ShitKid (Stockholm SWEDEN)
Shopping (London UK-ENGLAND)
Shred Kelly (Fernie BC)
Sie Lieben Maschinen (Kansas City MO)
Sik-k (Seoul SOUTH KOREA)
Silibrina (São Paulo BRAZIL)
SILVASTONE (London UK-ENGLAND)
Silvina Moreno (Buenos Aires ARGENTINA)
Sinead Harnett (London UK-ENGLAND)
Single Lash (Austin TX)
SISTERS (Seattle WA)
Sixo (Dallas TX)
Skinny Lister (Greenwich UK-ENGLAND)
Skyway Man (Nashville TN)
slenderbodies (Los Angeles CA)
Sloan Peterson (Sydney AUSTRALIA)
Sloppy Jane (Brooklyn NY)
Slow Caves (Fort Collins CO)
Slum Sociable (Melbourne AUSTRALIA)
Small Island Big Song (Melbourne AUSTRALIA)
Smokepurpp (Miami FL)
Smokey Brights (Seattle WA)
Smut (Cincinnati OH)
Snail Mail (Baltimore MD)
SNST (Chicago IL)
Soccer Mommy (Nashville TN)
Soda Lilies (Austin TX)
Some Kind of Animal (Pittsburgh PA)
Son Little (Philadelphia PA)
Sonars (Bergamo ITALY)
Sonia Calico (Taipei TAIWAN)
Sons of Bill (Charlottesville VA)
SoundMass (Austin TX)
Southern Avenue (Memphis TN)
Soviet (Los Angeles CA)
Soweto Kinch (Birmingham UK-ENGLAND)
Special Explosion (Seattle WA)
Spendtime Palace (Costa Mesa CA)
Spinning Coin (Glasgow UK-SCOTLAND)
Spirit Adrift (Phoenix AZ)
SPORTS (Philadelphia PA)
Sports (Tulsa OK)
Sputnik (Mexico City MEXICO)
SsingSsing (Seoul SOUTH KOREA)
STAL (Paris FRANCE)
Starlito (Nashville TN)
Stars and Rabbit (Yogyakarta INDONESIA)
Steak (London UK-ENGLAND)
Stefflon Don (London UK-ENGLAND)
Stella Donnelly (Fremantle AUSTRALIA)
Step Rockets (Minneapolis MN)
Stone Wheels (Austin TX)
Stonefield (Macedon Ranges AUSTRALIA)
Stop Light Observations (Charleston SC)
Strawberry Runners (Redding CT)
Strvngers (Edmonton CANADA)
Sturle Dagsland (Stavanger NORWAY)
Sudan Archives (Los Angeles CA)
Summer Heart (Malmö SWEDEN)
Summer Salt (Austin TX)
Sun Parade (Northampton MA)
Sun Seeker (Nashville TN)
Sun Voyager (New York NY)
Sunflower Bean (New York NY)
Supa Bwe (Chicago IL)
Super Doppler (Norfolk VA)
Superbody (Chattanooga TN)
Superfónicos (Austin TX)
Superorganism (London UK-ENGLAND)
SUR (Los Angeles CA)
Surfbort (Brooklyn NY)
Surma (Leiria PORTUGAL)
Sweet Crude (New Orleans LA)
SYML (Issaquah WA)
Tagore (Recife BRAZIL)
Talisco (Paris FRANCE)
Tameca Jones (Austin TX)
Tan Frío el Verano (Buenos Aires ARGENTINA)
Tancred (New England ME)
Tangina Stone (Brooklyn NY)
Tank and the Bangas (New Orleans LA)
Tank Washington (Austin TX)
Tasha the Amazon (Toronto CANADA)
TAWINGS (Tokyo JAPAN)
Tayla Parx (Dallas TX)
Tedy Andreas (Houston TX)
Ten Bears (Madrid SPAIN)
TENDOUJI (Tokyo JAPAN)
Tennis System (Los Angeles CA)
Terence Ryan (Pembroke MA)
Terry vs. Tori (Seville SPAIN)
Thandi Phoenix (Sydney AUSTRALIA)
The Bishops (Austin TX)
The Black Sorrows (Melbourne AUSTRALIA)
The Blind Suns (Angers FRANCE)
The Britanys (New York NY)
The Brother Brothers (Brooklyn NY)
The Buttertones (Los Angeles CA)
The Canvas People (Austin TX)
The Commonheart (Pittsburgh PA)
The Cunning (Nashville TN)
The Dead South (Regina CANADA)
The Deer (Austin TX)
The Dunwells (Leeds UK-ENGLAND)
The Dwarves (San Francisco CA)
The Elliotts (Melbourne AUSTRALIA)
The Fantastic Plastics (Brooklyn NY)
The Fish Police (London UK-ENGLAND)
The Fontaines (Los Angeles CA)
The Foreign Resort (Copenhagen DENMARK)
The Frights (San Diego CA)
The Ghost Wolves (Austin TX)
The Gloomies (Encinitas CA)
The Grahams (Nashville TN)
The Greeting Committee (Kansas City MO)
The Heart Collectors (Tyalgum AUSTRALIA)
The Homesick (Dokkum NETHERLANDS)
The Jackson Pollock (Bologna ITALY)
The Kraken Quartet (Austin TX)
The Krickets (Port St Joe FL)
The Lagoons (Austin TX)
The Lemons (Ulaanbaatar MONGOLIA)
The Lost Brothers (Dublin IRELAND)
The Magic Gang (Brighton UK-ENGLAND)
The Magnettes (Pajala SWEDEN)
The Marías (Los Angeles CA)
The Molochs (Los Angeles CA)
The Money War (Perth WA)
The National Reserve (Brooklyn NY)
The Nightowls (Austin TX)
The Nude Party (Livingston Manor NY)
The Orielles (Halifax UK-ENGLAND)
The Outer Vibe (Nashville TN)
The Outfit, TX (Dallas TX)
The President Lincoln (London UK-ENGLAND)
The Qualitons (Budapest HUNGARY)
The Resonars (Tucson AZ)
The RPMs (Brighton UK-ENGLAND)
The Rubilators (Austin TX)
The Shacks (New York NY)
The Sloths (Hollywood CA)
The Soft White Sixties (Los Angeles CA)
The Strypes (Cavan IRELAND)
The Teeta (Austin TX)
The Teskey Brothers (Melbourne AUSTRALIA)
The Veldt (Raleigh NC)
The Watchers (San Francisco CA)
The Weather Station (Toronto CANADA)
The Wedding Present (Leeds UK-ENGLAND)
The Wild Now (Austin TX)
The Yellow Traffic Light (Turin ITALY)
The Young Step (St. Augustine FL)
The Zephyr Bones (Barcelona SPAIN)
Thee Conductor (Austin TX)
Theodore (Athens GREECE)
THICK (Brooklyn NY)
Thunder Dreamer (Evansville IN)
TIGA (Paris FRANCE)
Tijuana Bibles (Glasgow UK-SCOTLAND)
TiKA (Toronto CANADA)
Tim Atlas (San Jose CA)
Tino Drima (San Francisco CA)
Tiny Ruins (Auckland NEW ZEALAND)
Tita Lima (Los Angeles CA)
TOMKAT (Denton TX)
Tone Stith (New Jersey NJ)
Tori Forsyth (Congewai AUSTRALIA)
Torino Black (Austin TX)
Totally Mild (Melbourne AUSTRALIA)
Touts (Derry UK-N. IRELAND)
Tracy Bryant (Los Angeles CA)
Tristen (Nashville TN)
Trophy Dad (Madison WI)
Trupa Trupa (Gdańsk POLAND)
Tunde Olaniran (Flint MI)
Tuomo & Markus (Helsinki FINLAND)
Twain (Franklin County VA)
Tyler Childers (Louisa KY)
U.S. Girls (Toronto CANADA)
Ume (Austin TX)
Uncle Meg (Brooklyn NY)
Uni (New York NY)
United Ghosts (Los Angeles CA)
Us and Us Only (Baltimore MD)
Us, Today (Cincinnati OH)
Uzuhan (Atlanta GA)
Vacations (Newcastle AUSTRALIA)
Valley Queen (Los Angeles CA)
Van Ness Wu (Taipei TAIWAN)
Vandoliers (Dallas TX)
Varsity (Chicago IL)
Victim Mentality (Seoul SOUTH KOREA)
Video Age (New Orleans LA)
Violet Days (Stockholm SWEDEN)
Violetta Zironi (Reggio Emilia ITALY)
Vista Kicks (Los Angeles CA)
Vita and the Woolf (Philadelphia PA)
Von Grey (Atlanta GA)
VOWWS (Los Angeles CA)
Voyager (Perth AUSTRALIA)
Vundabar (Boston MA)
VVV (Austin TX)
VZn (Jersey City NJ)
Waco Brothers (Chicago IL)
Wake Island (Montreal CANADA)
Walker Lukens (Austin TX)
Wallows (Los Angeles CA)
Warbly Jets (Los Angeles CA)
Warren Hood (Austin TX)
Washer (Brooklyn NY)
Wavie Gang (Milwaukee WI)
We Were the States (Nashville TN)
Weird Bloom (Rome ITALY)
Welles (Nashville TN)
Wentru (Antofagasta CHILE)
Wesley Jensen and The Penny Arcade (Denton TX)
Western Youth (Austin TX)
White Mystery (Chicago IL)
Whitney Rose (Austin TX)
Wifisfuneral (Palm Beach FL)
WILD (Los Angeles CA)
Wild Moccasins (Houston TX)
Wilder Maker (Brooklyn NY)
Wilderado (Los Angeles CA)
Will Stewart (Birmingham AL)
Will Varley (Deal UK-ENGLAND)
William Harries Graham (Austin TX)
Willie Heath Neal (Atlanta GA)
WILSN (Melbourne AUSTRALIA)
Wire Spine (Vancouver CANADA)
Wo Fat (Dallas TX)
Wood & Wire (Austin TX)
Woodie GoChild (Seoul SOUTH KOREA)
World Brain (Berlin GERMANY)
WRONG (Miami FL)
Wrongonyou (Rome ITALY)
Wyclef Jean (Saddle River NJ)
Wyldest (London UK-ENGLAND)
Yahyel (Tokyo JAPAN)
Yamantaka // Sonic Titan (Toronto CANADA)
Yazan (Brooklyn NY)
YBN Nahmir (Birmingham AL)
Yemen Blues (Tel Aviv ISRAEL)
YFN Lucci (Summerhill GA)
Yoga Fire (Mexico City MEXICO)
Yonaka (Brighton UK-ENGLAND)
Young Jesus (Los Angeles CA)
Yultron (Los Angeles CA)
Yungen (London UK-ENGLAND)
Yxng Bane (London UK-ENGLAND)
Zack Keim (Blawnox PA)
Zara McFarlane (Dagenham UK-ENGLAND)
Zen Bamboo (Montréal CANADA)
Zenizen (Brooklyn NY)
Zero Balas (Lima PERU)
Zeshan B (Chicago IL)
Zoey Dollaz (Miami FL)
Zoology (Kelowna CANADA)
Zuli (Long Island NY)