Shambhala Music Festival is an electronic music festival at Salmo River Ranch in British Columbia. The intimate festival is not sponsored by any companies, it's grown organically over the years, tried and true by farm owners Rick and Sue Bundschuh. Shambhala is about music, art and life with a focus on electronic music. The dates for Shambhala Music Festival are August 8 - 11. The Shambhala Music Festival 2014 lineup is below, and Shambhala Music Festival tickets are below.
Stay up to date on the latest Shambhala Music Festival news
Check out our FESTIVAL Video Channel for videos from previous festivals. Then come back during the festival weekend and after for archived performances and live sets. Also check out our Music Festival Videos channel for music festival video coverage.

Listen to a song by clicking on a title below: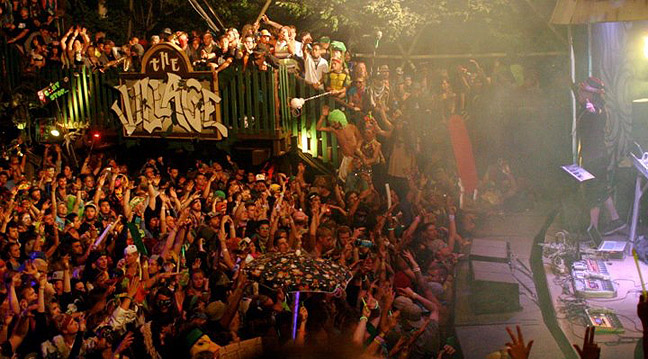 Shambhala Music Festival photo by James Oborne

Where is the Shambhala Music Festival?
General Admission: $290
VIP: $$$
123 MRK
A Tribe Called Red
A. Skrillz
Amp Live
Andy C
Atronomar
B. Traits
Bassnectar
Beardyman
Beats Antique
BEnji Vaughan
Bizarnival
Caked Up
Casual
Chris Lorenzo
Christian Martin
Datsik
DJ Nu-Mark
Donald Glaude
Dreadsquad
El Papa Chango
Eligh
Emancipator
EOTO
Exision
Falcons
Featurecast
Flinch
Fort Knox Five vs. Thunderball
G Jones
Getter
Goosebumpz
Gorgon City
Grandtheft
Griz
Hannah Wants
Hedflux
Human Experience
Ill. Gates
J Phlip
J Rabbit
JFB
Justin Martin
Kalya Scintilla
Kaminanda
killpan's
Leon Switch
Lindsay Lowend
Liquid Stranger
Lucent Dossier Experience
Lynx
Moby
Mr. Scruff
MT Eden
My Nu Leng
Nicolumninous
Odesza
OOkay
Opiuo
Pegboard Nerds
Phaeleh
Plantrae
Protohype
Pumpkin
Rene Lavice
Rob Garza
Robot Koch
Sabo
Skream
Smalltown DJs
Stylust Beats
Sun:Monx
Sweatshop union
Taiki & Nulight
Terravita
The Correspondents
Thriftworks
thugli
Truth
Tur
ursula 1000
What So Not
Zion-I
Z-Trip
Who do you want to see in the Shambhala Music Festival 2014lineup?