Austin City Limits is the major music festival in Austin, TX. SXSW happens in the Spring, but pales in comparison to the epicness that is Austin City Limits, often called ACL for short. It takes place in Zilker Park, and the ACL live stream is hosted by Red Bull. You get indie music, country, folk, rock and electronic music on eight stages. The official ACL 2015 dates are Oct. 2 - 4 and Oct. 9 - 11. The ACL 2015 lineup and ACL 2015 tickets are below!
Check out our Austin City Limits Video Channel for information on the ACL 2015 live stream webcast as well as videos from previous festivals. Then come back during the festival weekend and after for archived performances and live sets. Also check out our Music Festival Videos channel for music festival video coverage.
Listen to a song by clicking on a title below:
Watch the Austin City Limits live stream!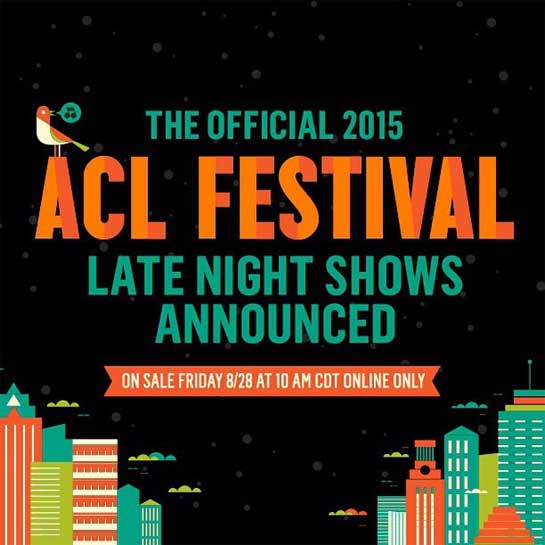 ACL Festival night shows have been announced!
Austin City Limits General Admission One-day Tickets: $100
Austin City Limits General Admission Three-day Tickets: $250
Austin City Limits VIP Tickets: $1100
Austin City Limits Platinum Tickets: $3600
Foo Fighters
Drake
The Strokes
The Weeknd
Disclosure
deadmau5
Bassnectar
alt-J
Hozier
Alabama Shakes
Of Monsters and Men
Tame Impala
Sturgill Simpson
The Decemberists
A$AP Rocky
Gary Clark Jr.
Chance The Rapper
Ben Howard
Brand New
TV On The Radio
WALK THE MOON
Billy Idol
Twenty One Pilots
Nero
Dwight Yoakam
Father John Misty
Brandon Flowers
Vance Joy
George Ezra
Lord Huron
Flosstradamus
Cherub
Run The Jewels
Glass Animals
Sylvan Esso
Shakey Graves
Leon Bridges
Nate Ruess
Echosmith
Royal Blood
MisterWives
Kurt Vile and The Violators
José González
GRiZ
Daughter
Houndmouth
BØRNS
Rhiannon Giddens
Boots
Strand of Oaks
Unknown Mortal Orchestra
Ryn Weaver
Albert Hammond Jr.
MOON TAXI
Halsey
In The Valley Below
Years & Years
Sheppard
Waxahatchee
Milo Greene
San Fermin
Drew Holcomb and The Neighbors
Meg Myers
The Maccabees
Ruen Brothers
Amason Asleep At The Wheel
William Clark Green
Charlotte OC
Songhoy Blues
Ume
Lion Babe
HOLYCHILD
Con Brio
MAKO
Talk In Tongues
Leopold and his Fiction
Sons of Bill
The Suffers
Kehlani
Jessica Hernandez & The Deltas
American Aquarium
Rayland Baxter
The Wind and The Wave
Night Drive
Calliope Musicals
In the Whale
Boom Forest
The Eagle Rock Gospel Singers
Sol Cat
Koa
Muddy Magnolias
Maggie Koerner
Hunter Sharpe
Mikaela Davis
Tyree Morris & Hearts of Worship
The Levites
BLESSED
A Tribute to Andrae Crouch
The Barton Hills Choir
Wesley Bray and the Disciples of Joy
Kings of Harmony +1
Q Brothers
Residual Kid
Justin Roberts & the Not Ready for Naptime Players Tim Kubart w/ Mother Falcon
Big Don
School of Rock
Foo Fighters
Drake
Florence + The Machine
The Weeknd
Disclosure
deadmau5
Bassnectar
alt-J
Hozier
Of Monsters and Men
Modest Mouse
Tame Impala
Sturgill Simpson
The Decemberists
A$AP Rocky
Gary Clark Jr.
Chance The Rapper
Ben Howard
Brand New
TV On The Radio
WALK THE MOON
Billy Idol
Twenty One Pilots
Nero
Dwight Yoakam
Father John Misty
Brandon Flowers
Vance Joy
George Ezra
Lord Huron
Flosstradamus
Cherub
Run The Jewels
Glass Animals
Sylvan Esso
Shakey Graves
Leon Bridges
Nate Ruess
Echosmith
Royal Blood
MisterWives
Kurt Vile and The Violators
José González
GRiZ
Daughter
Houndmouth
BØRNS
Rhiannon Giddens
Boots
Strand of Oaks
Unknown Mortal Orchestra
Ryn Weaver
Albert Hammond Jr.
MOON TAXI
Halsey
Classixx
Sheppard
Milo Greene
San Fermin
Meg Myers
The Maccabees
Ruen Brothers
Amason
Wolf Alice
Avers
Asleep At The Wheel
Charlotte OC
Songhoy Blues
Elle King
Whiskey Myers
Lion Babe
Marian Hill
Con Brio
Kaleo
The Hunts
MAKO
Beat Connection
The NIGHTOWLS
Mandolin Orange
Spirit Family Reunion
Kali Uchis
Tameca Jones
Bee Caves
Knifight
Riders Against The Storm
Gabriel Garzón-Montano
The Eagle Rock Gospel Singers
Adia Victoria
The London Souls
DeRobert & The Half-Truths
Lanz Pierce
Steelism
Kansas Bible Company
Tyree Morris & Hearts of Worship
The Levites
BLESSED
A Tribute to Andrae Crouch
The Barton Hills Choir
Wesley Bray and the Disciples of Joy
Kings of Harmony +1
Q Brothers
EmiSunshine
Motown Pete
The Pop Ups
Mister G
Big Don
School of Rock