Curated by The Disco Biscuits, Camp Bisco is a combination of electronic music and jam bands that happens at Montage Mountain in Scranton, Pennsylvania. The official dates for Camp Bisco 2015 are July 16 - 18. The Camp Bisco 2015 lineup and Camp Bisco 2015 ticket prices are below!
Join FanFueled & earn Camp Bisco rewards
Get to know Montage Mountain in Scranton, the new Camp Bisco home
Top 10 Camp Bisco 2015 artists
Camp Bisco Adds Twiddle, American Babies
Camp Bisco 2015 Lineup Announcement
Camp Bisco Expands Lineup
Camp Bisco Music & Arts Festival Returns
Stay up to date on the latest Camp Bisco news
Come back during the festival weekend and after for archived Camp Bisco video performances and live sets. Also check out our Music Festival Videos channel for music festival video coverage.
Listen to a song by clicking on a title below:
Camp Bisco 2015 will be an awesome weekend in the sun
Are you going to the 2015 Camp Bisco?
Bassnectar is in the Camp Bisco lineup
Camp Bisco will be a return to form in 2015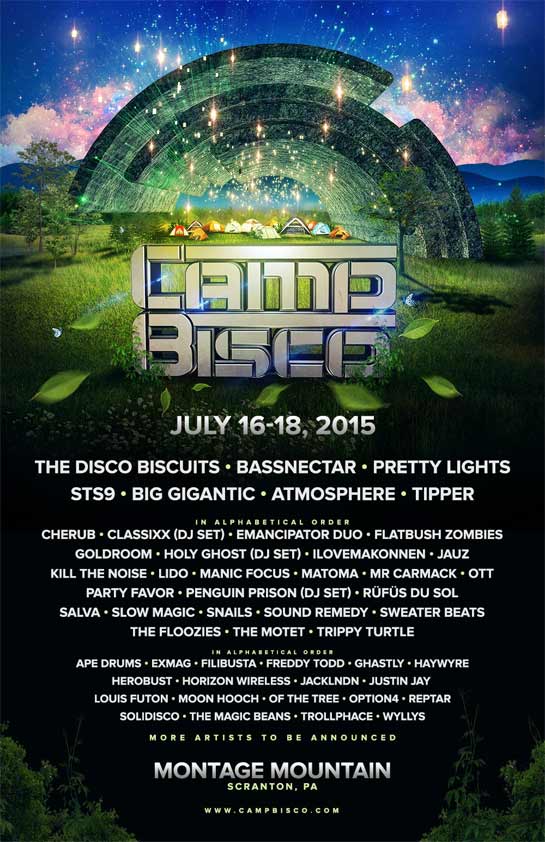 Camp Bisco 2015 lineup is out!
Camp Bisco 2015 is official!
Camp Bisco 2015 vibes will be creative
Find low rate or luxury hotels
for Camp Bisco in or around
Scranton.
Camp Bisco Three-day General Admission Tickets: $185
Camp Bisco Three-day VIP Tickets: $450
The Disco Biscuits
Bassnectar
Pretty Lights
Sts9
Big Gigantic
Atmosphere
Tipper
American Babies
Cherub
Classixx (Dj Set)
Emancipator Duo
Flatbush Zombies Goldroom
Holy Ghost (Dj Set)
Ilovemakonnen
Jauz Kill The Noise
Lido
Manic Focus
Matoma
Mr Carmack
Ott Party Favor
Papadosio
Penguin Prison (Dj Set)
Rufus Du Sol Salva
Slow Magic
Snails
Sound Remedy
Sweater Beats The Floozies
The Motet
Trippy
Turtle Ape Drums
Twiddle
Exmag
Filibusta
Freddy Todd
Ghastly
Haywyre Herobust
Horizon Wireless
Jacklndn
Justin Jay Louis Futon
Moon Hooch
Of The Tree
Option4
Reptar Solidisco
The Magic Beans
Trollphace
Wyllys
Zoogma