Holy Ship is the only thing that could be better than an electronic music festival: it's an electronic music festival on a huge boat. The luxurious Norwegian Epic plays host for 24 hour party people to get down on a cruise from Port Canaveral to Nassau, Bahamas. Words like epic and awesome seem too small to describe this scene, filled with A-list talent. The Holy Ship 2017 dates were January 6 - 10 and January 10 - 14. The Holy Ship 2017 lineup is out and Holy Ship 2017 tickets are below!
Make Holy Ship 2017 amazing
Join us on Instagram to get Holy Ship 2017 updates
Check back for updates from Holy Ship 2017!
Check out the Holy Ship lineup!
Get Holy Ship 2017 updates by joining us on Facebook
Stay up to date on the latest Holy Ship news
Join our Facebook Event Group to get Holy Ship updates for 2017

Come back during the festival weekend and after for archived Holy Ship video performances and live sets. Also check out our Music Festival Videos channel for music festival video coverage.
Watch a video by clicking on a title below: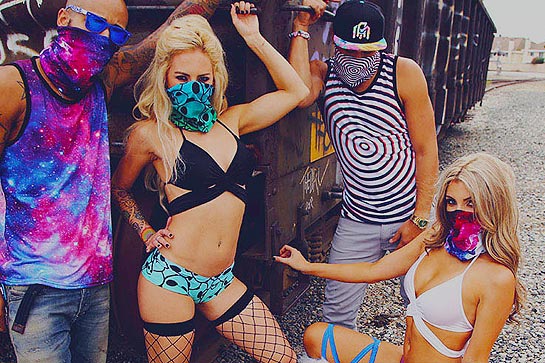 Get everything you need to make Holy Ship 2017 amazing
Holy Ship 2017 beachside performance
Beach time at Holy Ship 2017
Holy Ship also has perfomances on the boat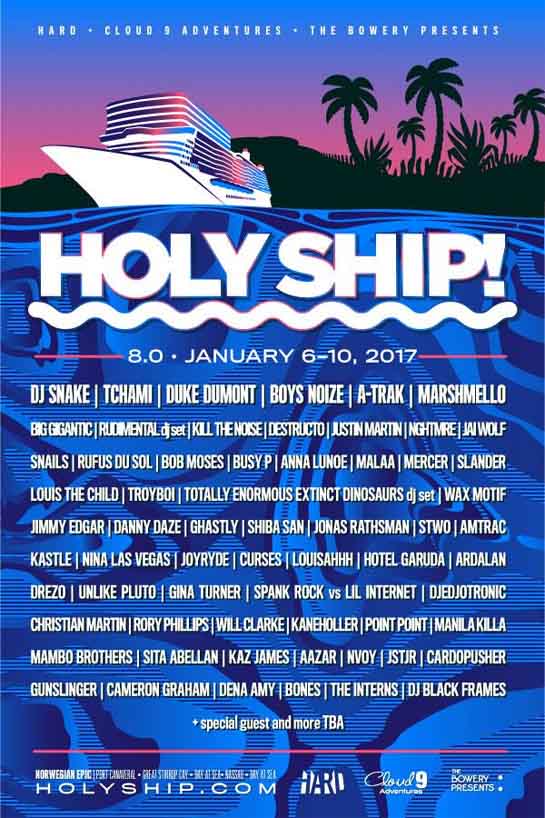 The Holy Ship 2017 lineup for January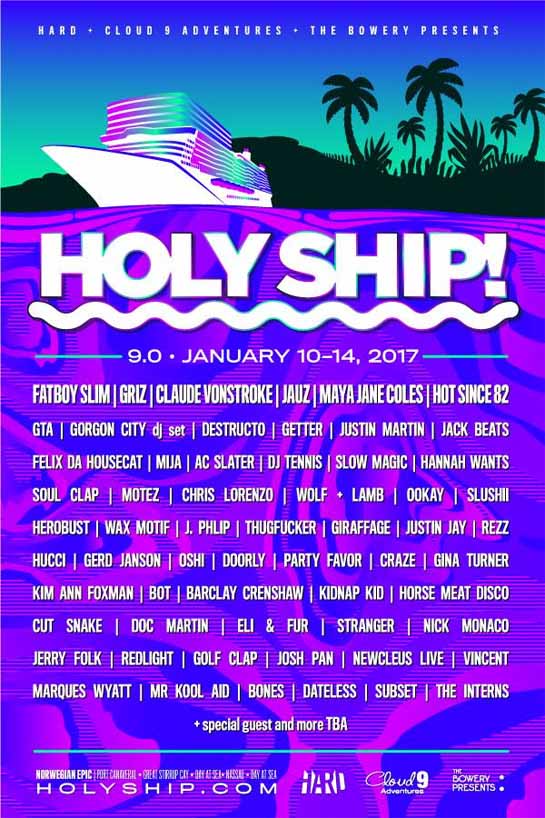 The Holy Ship 2017 lineup for February
Full Lineup
Fatboy Slim
GRiZ
Claude VonStroke
Jauz
Maya Jone Coles
Hot Since 82
GTA
Gorgon City (DJ Set)
Destructo
Getter
Justin Martin
Jack Beats
Felix Da Housecat
Mija
AC Slater
DJ Tennis
Slow Magic
Hannah Wants
Soul Clap
Motez
Chris Lorenzo
Wolf+Lamb
Ookay
Slushii
HeRobust
Wax Motif
J. Phlip
Thugfucker
Giraffage
Justin Jay
Rezz
Hucci
Gerd Janson
Oshi
Doorly
Party Favor
Craze
Gina Turner
Kim Ann Foxman
Bot
Barclay Crenshaw
Kidnap Kid
Horse Meat Disco
Cut Snake
DJ Doc Martin
Eli & Fur
Stranger
Nick Monaco
Jerry Folk
Redlight
Golf Clap
Josh Pan
Newcleus Live
Vincent
Marques Wyatt
Mr. Kool Aid
Bones
Dateless
Subset
The Interns