The phase two SXSW Music 2020 lineup is out with Wire, Automatic, Nasty Cherry, Iguana Death Cult, Monophonics, Otoboke Beaver, Parisalexa, Pleasure Venom, Bodywash and more! See the lineup section farther below for a complete listing of all of the artists that have been named to the lineup so far.
SXSW has grown into an epic conference and group of festivals, with Keynote speeches, Featured Speakers and sessions by day with great nighttime (some day, too) festival events to catch throughout the entire range of days. Being at SXSW 2020 can help you network & get exposure.
The festival venues run all over Austin, so you can check out artists performing in great places all over town.
2020 SXSW tickets are currently on sale! Check out ticket prices in the ticket section farther below and get access to tickets.
It's a week and a half of shows, discussion panels, schmoozing, new ideas, schmoozing, drunkenness while trying to schmooze, etc. An amazing good time and the best place to check in on what's happening in the world of music, film and tech! SXSW Interactive 2020 dates are Mar. 13 -21, SXSW Film 2020 dates are Mar. 13 - 21 and SXSW Music 2020 dates are Mar. 16 - 22.
The SXSW 2020 lineups and events will unfold throughout the year, so check back for updates!
SXSW Music 2020 is the gathering that shapes the rest of the year ... check out anybody who'll be somebody at SXSW Music in Austin, Texas. The lineup is HUUUGGE and features the best of American talent as well as international acts. SXSW Music showcases are shows hosted by entities like record labels, booking agencies, media outlets, lifestyle brands and more. You can check out great live sets from artists, bands and DJs in various clubs and locations around Austin.
The SXSW Film Festival is the film component of the huge SXSW Festival. It focuses largely on the directors and creators of the films. In addition to daytime talks and panels, you can attend the Film Awards and Screenings.
You can find all of the best new ideas in Tech at SXSW Interactive ... the best new apps, companies, ideas and futuristic visions. There are competitions and award ceremonies including the Interactive Innovation Awards, SXSW Pitch, Release It Awards, and Community Service Awards. You can meet new people and *network* at the Interactive Mix at Six and the Interactive Bash.
You can also find both Comedy and Gaming at SXSW, not as basic division of the festival like the previous three categories, but lots of things to see and hear and do for these as well.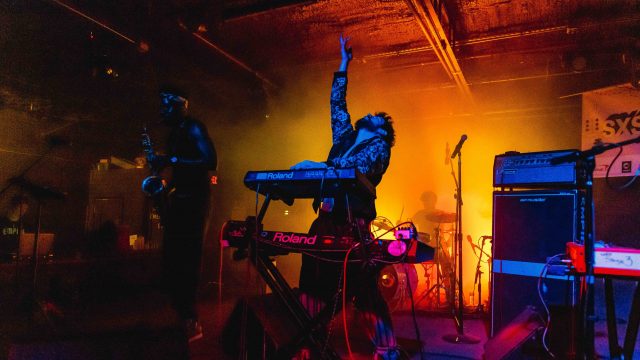 You can discover showcasing artists, music mentors, sessions & more with a 2020 SXSW Music badge FIND OUT MORE >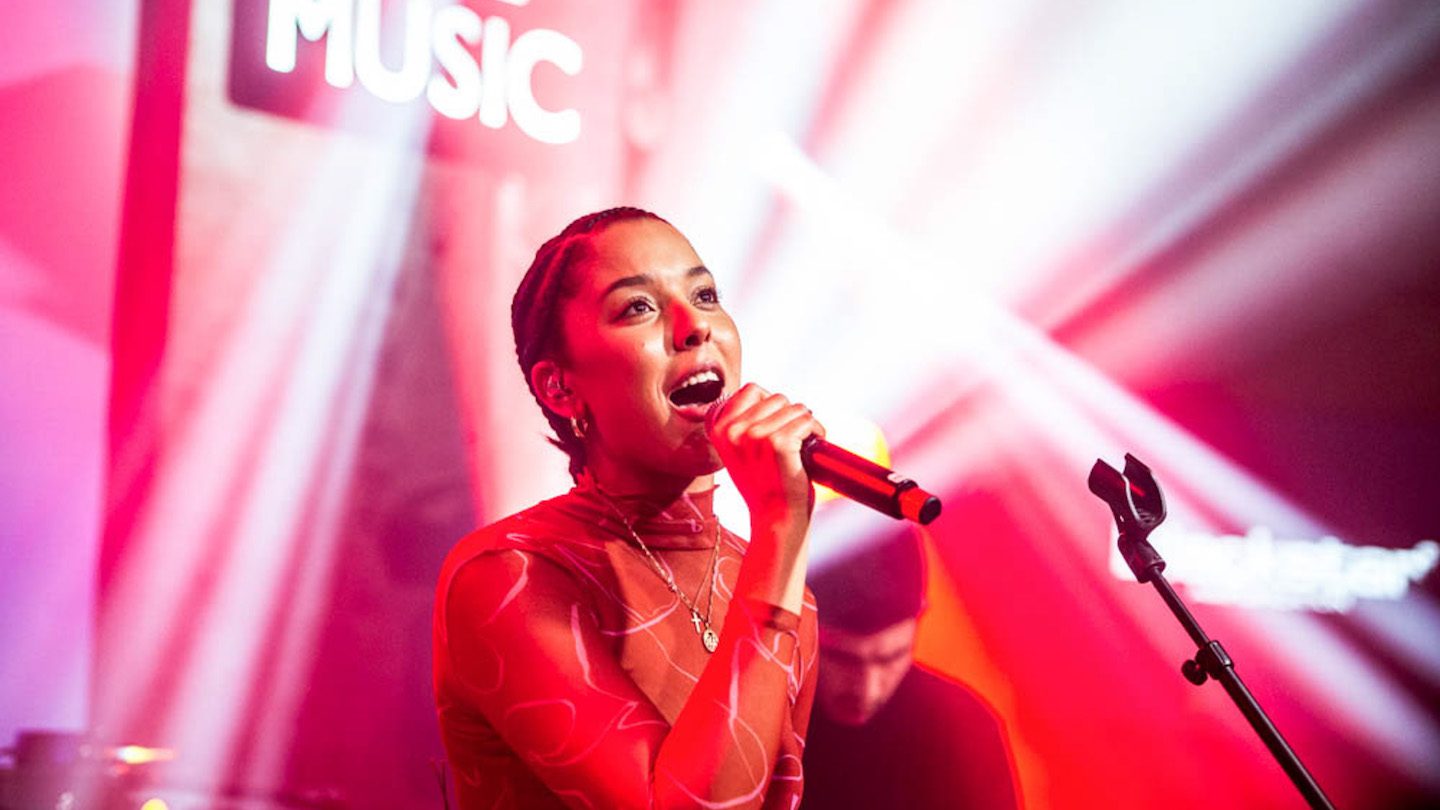 Check in on the the SXSW 2020 Daily Chord FIND OUT MORE >

SXSW 2020 tickets are now on sale! SEE TICKETS >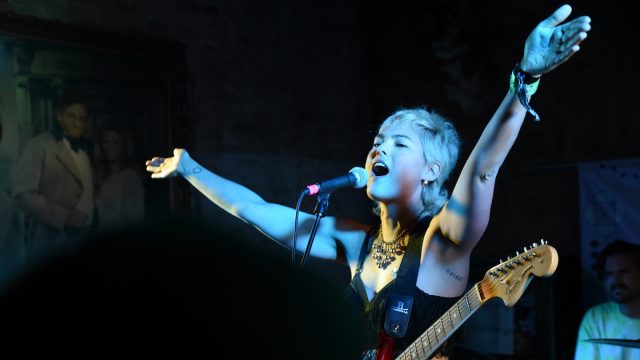 2020 SXSW Showcasing Artist applications are open! FIND OUT MORE >
SXSW 2020 is your chance to get your festfam together GET STARTED >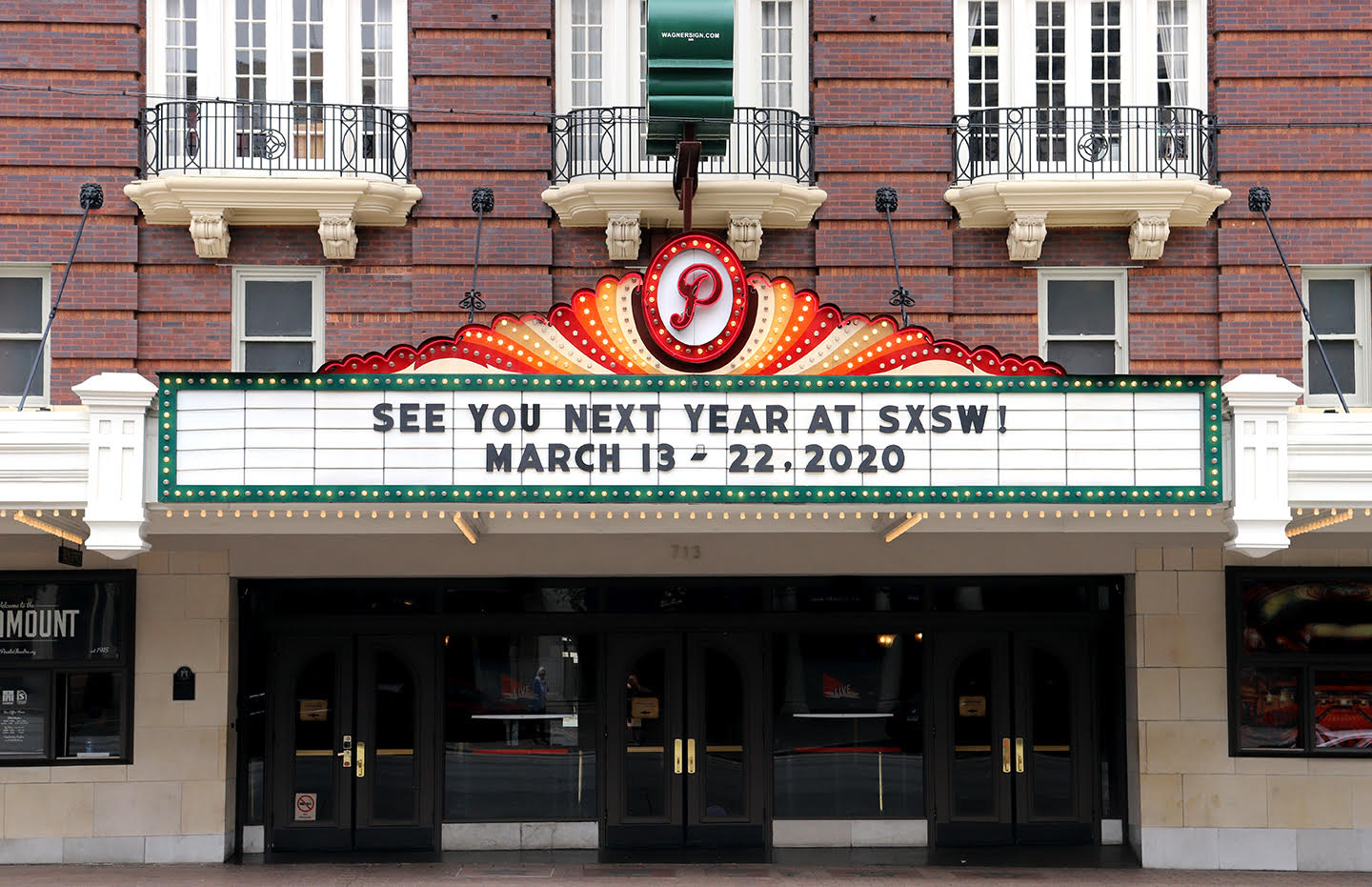 SXSW 2020 dates are confirmed! SXSW Interactive 2020 dates are Mar. 13 -21, SXSW Film 2020 dates are Mar. 13 - 21 and SXSW Music 2020 dates are Mar. 16 - 22.
Spacelab has partnered with Stay22 to help you find a place to stay at SXSW! Click on the icons to browse places to stay, then click through to see more details.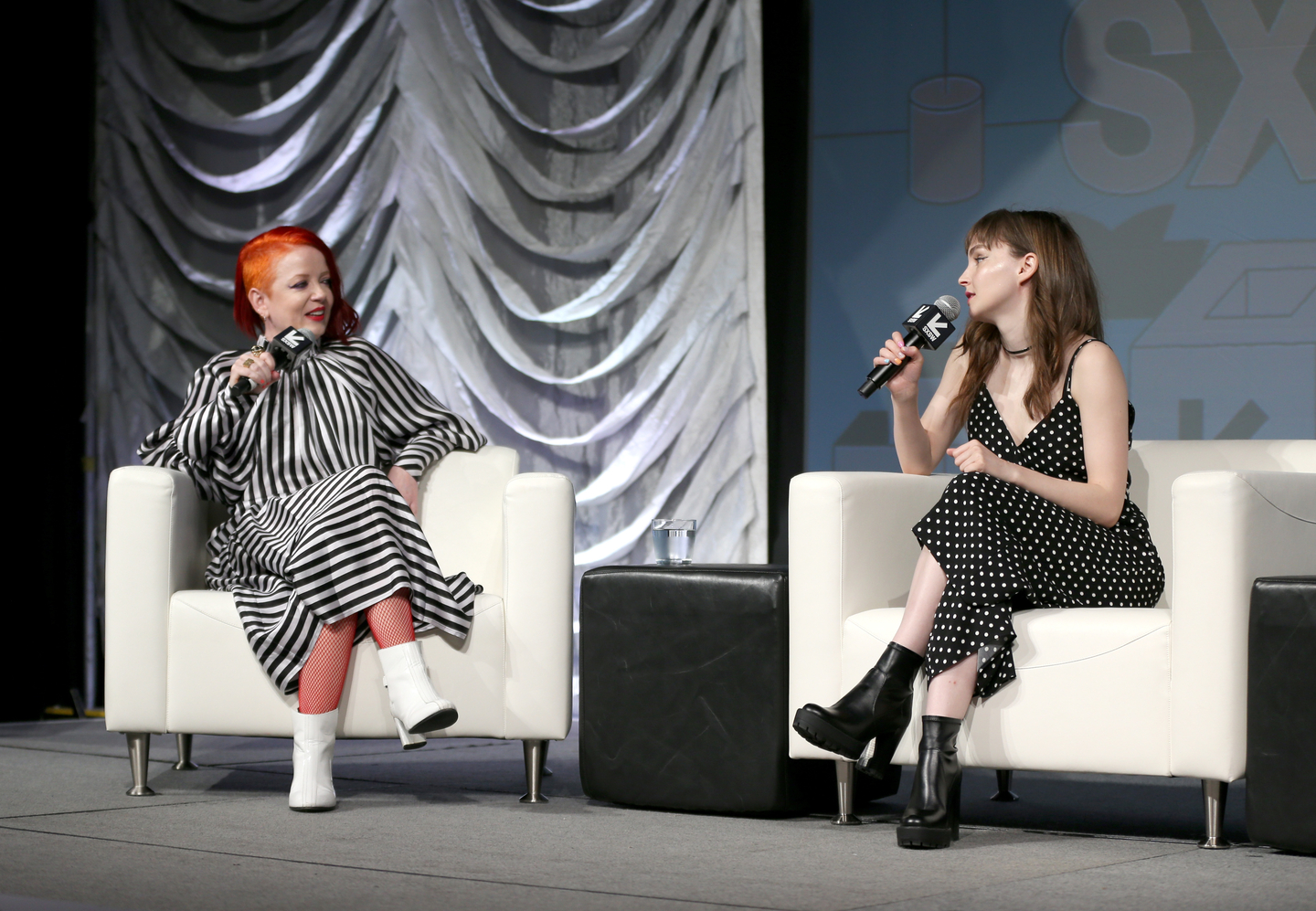 SXSW 2020 will have great Keynote Speeches from influential people in music, tech and film. Pictured above is Lauren Mayberry from CHVRCHES and Shirley Manson from Garbage, the music keynote from last year.
Reggie Fils-Aimé
Kim Gordon
Benny Blanco
Tressie McMillan Cottom
Steve DeAngelo
Camille François
Chip and Joanna Gaines
Roxane Gay
Chris Hughes
Guy Laliberté
Yo-Yo Ma
John Maeda
Col Needham
Kwame Onwuachi
Nile Rodgers with Merck Mercuriadis
Robert Rodriguez with Cheech Marin
Amy Webb and Shoshana Zuboff
The SXSW schedule will be posted here when it's announced.
Check back for updates!
$NOT (Lake Worth FL)
1$T (Atlanta GA)
A. Swayze & The Ghosts (Hobart AUSTRALIA)
Accü (Carmarthen UK-WALES)
ACTORS (Vancouver CANADA)
Ada Lea (Montreal CANADA)
Adam French (Congleton UK-ENGLAND)
Ailbhe Reddy (Dublin IRELAND)
Aiming For Enrike (Oslo NORWAY)
AKA (Cape Town SOUTH AFRICA)
Akeju (New York NY)
Alex Somers (Los Angeles CA)
Alex the Astronaut (Sydney AUSTRALIA)
Alexander Biggs (Melbourne AUSTRALIA)
Algiers (Atlanta GA)
Ali Barter (Melbourne AUSTRALIA)
Alice Skye (Melbourne AUSTRALIA)
Alien Tango (Murcia SPAIN)
Alina Pash (Kyiv UKRAINE)
All My Friends Hate Me (Los Angeles CA)
Altre di B (Bologna ITALY)
Amanda Black (Mthatha SOUTH AFRICA)
American Werewolf Academy (Dallas TX)
Anatole (Sydney AUSTRALIA)
ANAVITÓRIA (São Paulo BRAZIL)
Andrea Cruz (Puerto Rico PUERTO RICO)
Angelica Garcia (El Monte CA)
Anna Burch (Detroit MI)
Anna Fox (Brooklyn NY)
Antonio Lizana (San Fernando SPAIN)
Antti Paalanen (Kokkola FINLAND)
Approachable Members Of Your Local Community (Melbourne AUSTRALIA)
Arlo Parks (London UK-ENGLAND)
Arp Frique & Erik "Keysie" Ritfeld (Amsterdam NETHERLANDS)
Arre! Arre! (Malmö SWEDEN)
Art d'Ecco (Victoria CANADA)
Atash (Austin TX)
Automatic (Los Angeles CA)
Automelodi (Montreal CANADA)
Babeheaven (London UK-ENGLAND)
Bad Waitress (Toronto CANADA)
Baker Boy (Melbourne AUSTRALIA)
Bakers Eddy (Melbourne AUSTRALIA)
Banditos (Birmingham AL)
Bandits on the Run (New York NY)
Bang Bang Romeo (Doncaster UK-ENGLAND)
Barbara Nesbitt (Austin TX)
Barbi Recanati (Buenos Aires ARGENTINA)
Baseball Gregg (Bologna ITALY)
Basia Bulat (Montreal CANADA)
BATTS (Melbourne AUSTRALIA)
Beabadoobee (London UK-ENGLAND)
Beachtape (Brighton UK-ENGLAND)
Being Dead (Austin TX)
Ben&Ben (Manila PHILIPPINES)
Benny Afroe (Middelburg SOUTH AFRICA)
Bethlehem Steel (Brooklyn NY)
Better Person (Berlin GERMANY)
Big Mountain County (Rome ITALY)
Bill and the Belles (Johnson City TN)
BILS (Ikeja NIGERIA)
Birthday Club (Houston TX)
Biznaga (Madrid SPAIN)
Black Country, New Road (Cambridge UK-ENGLAND)
Blacks' Myths (Washington DC)
Bleaker (Huntsville AL)
Blushh (Los Angeles CA)
BLXPLTN (Austin TX)
Bobby Oroza (Helsinki FINLAND)
Bodywash (Montreal CANADA)
Bootblacks (New York NY)
Borealis Rex (New Orleans LA)
Bourgeois Mystics (Austin TX)
Boy Scouts (Oakland CA)
Brother Dege (Lafayette LA)
Buzzard Buzzard Buzzard (Cardiff UK-WALES)
Byrke Lou (Berlin GERMANY)
Cable Ties (Melbourne AUSTRALIA)
Cadence Weapon (Toronto CANADA)
Campfire Social (Wrexham UK-WALES)
Candeleros (Madrid SPAIN)
Cape Weather (Los Angeles CA)
Capyac (Austin TX)
Caracoles (Canary Islands SPAIN)
Carla Geneve (Perth AUSTRALIA)
Casey Neill & The Norway Rats (Portland OR)
Cassper Nyovest (Mafikeng SOUTH AFRICA)
Catholic Action (Glasgow UK-SCOTLAND)
Ceci Juno (Guayaquil ECUADOR)
Charlie Faye & The Fayettes (Austin TX)
Chestnut (Los Angeles CA)
ChihiroYamazaki+ROUTE14band (Tokyo JAPAN)
China Bears (London UK-ENGLAND)
CIFIKA (Seoul SOUTH KOREA)
Citrico (Buenos Aires ARGENTINA)
Clean Cut Kid (Liverpool UK-ENGLAND)
Cloud Rat (Mount Pleasant MI)
Colin Gilmore & Nicolette Good: Ladder To The Moon (Austin TX)
Common Holly (Montreal CANADA)
Communicant (Pasadena CA)
Como Las Movies (Austin TX)
Con Brio (San Francisco CA)
Control Top (Philadelphia PA)
Corridor (Montreal CANADA)
Costa de Ámbar (Guadalajara MEXICO)
Cousin Tony's Brand New Firebird (Melbourne AUSTRALIA)
Cromosapiens (Monterrey MEXICO)
Cruz Cafuné (Tacoronte SPAIN)
CULTTASTIC (Houston TX)
Dan García (Mexico City MEXICO)
Daniel Casimir & Tess Hirst (London UK-ENGLAND)
Darkbird (Austin TX)
David Ramirez (Austin TX)
Dawn Avenue (Tres Marias MEXICO)
deca joins (Taipei TAIWAN)
Declan J Donovan (Essex UK-ENGLAND)
Deeper (Chicago IL)
Dehd (Chicago IL)
Desierto Drive (Monterrey MEXICO)
Devarrow (Halifax CANADA)
Devon Gilfillian (Nashville TN)
Devours (Vancouver CANADA)
Die Heiterkeit (Berlin GERMANY)
Disq (Madison WI)
Do Nothing (Nottingham UK-ENGLAND)
Dog In The Snow (Brighton UK-ENGLAND)
Dom Flemons (Washington DC)
Donna Blue (Amsterdam NETHERLANDS)
Dos Monos (Tokyo JAPAN)
Drinking Boys and Girls Choir (Daegu SOUTH KOREA)
Dromedarios Mágicos (Mexico City MEXICO)
Dry Cleaning (London UK-ENGLAND)
DTSQ (Seoul SOUTH KOREA)
Dylan Fuentes (Barranquilla COLOMBIA)
Early James (Birmingham AL)
Easy Wanderlings (Pune INDIA)
El Dorado (Mexico City MEXICO)
eldanidonoso (Santiago CHILE)
Elephant Stone (Montreal CANADA)
Elis Paprika & The Black Pilgrims (Guadalajara MEXICO)
Ellen Krauss (Stockholm SWEDEN)
Ellis (Hamilton CANADA)
Emma Jean Thackray (London UK-ENGLAND)
Enno Cheng (Taiwan TAIWAN)
Enrique Campos (Buenos Aires ARGENTINA)
Eoin Smith (Dublin IRELAND)
eX-Girl (Kichijoji JAPAN)
FAIRE (Paris FRANCE)
Family Jools (Bristol UK-ENGLAND)
Fanclub (Austin TX)
Far Caspian (Leeds UK-ENGLAND)
FEET (Coventry UK-ENGLAND)
Fenne Lily (Bristol UK-ENGLAND)
Ferris & Sylvester (London UK-ENGLAND)
Fire EX. (Taiwan TAIWAN)
FLAVIA (Los Angeles CA)
Flyying Colours (Melbourne AUSTRALIA)
Fragile Rock (Austin TX)
Fran (Chicago IL)
Frances Quinlan (Philadelphia PA)
FRANKIIE (Vancouver CANADA)
fuvk (Austin TX)
Gena Rose Bruce (Melbourne AUSTRALIA)
Georgel (Monterrey MEXICO)
Gewalt (Berlin GERMANY)
Ghetto Kumbé (Bogotá COLOMBIA)
Girl Friday (Los Angeles CA)
Glue Trip (João Pessoa BRAZIL)
Good Morning (Melbourne AUSTRALIA)
Goon (Los Angeles CA)
GRIP (Atlanta GA)
Grivo (Austin TX)
GRLwood (Louisville KY)
Gross Net (Belfast UK-N. IRELAND)
Grrrl Gang (Yogyakarta INDONESIA)
Hachiku (Melbourne AUSTRALIA)
Hala (Detroit MI)
Hamzaa (London UK-ENGLAND)
Hannah Williams & The Affirmations (Bristol UK-ENGLAND)
Hardwicke Circus (Carlisle UK-ENGLAND)
Haru Nemuri (Yokohama JAPAN)
Hater (Malmö SWEDEN)
Hayden Pedigo (Amarillo TX)
Hedonutopia (Istanbul TURKEY)
Henry Brun & The Latin Playerz (San Antonio TX)
Hera (Reykjavik ICELAND)
High Heavens (Austin TX)
Hiperson (Chengdu CHINA)
HMLTD (London UK-ENGLAND)
Horse Jumper of Love (Boston MA)
Housecall (Dallas TX)
HTRK (Melbourne AUSTRALIA)
Huck (Brooklyn NY)
Iguana Death Cult (Rotterdam NETHERLANDS)
ings (Seattle WA)
Islet (Cardiff UK-WALES)
Italia 90 (London UK-ENGLAND)
Jadu Heart (London UK-ENGLAND)
Jamie-Lee Dimes (Gold Coast AUSTRALIA)
Jan Verstraeten (Sint-Niklaas BELGIUM)
Jane Weaver (Manchester UK-ENGLAND)
Jason Hawk Harris (Los Angeles CA)
Jeannel (Berlin GERMANY)
Jeff Lofton (Austin TX)
Jekyll (Blackpool UK-ENGLAND)
Jeremie Albino (Toronto CANADA)
Jim and Sam (Santa Monica CA)
Jinmi Abduls (Lagos NIGERIA)
Joe Purdy (Los Angeles CA)
Jordan Mackampa (London UK-ENGLAND)
Joël (Toronto CANADA)
Jucee Froot (Memphis TN)
Just Mustard (Dundalk IRELAND)
Kae Astra (Austin TX)
KAINA (Chicago IL)
Kate Bollinger (Charlotesville VA)
Kate Clover (Los Angeles CA)
Katie Pruitt (Nashville TN)
KAZKA (Kyiv UKRAINE)
Kelsey Waldon (Nashville KY)
KennyHoopla (Oshkosh WI)
Kiki Valera (Seattle WA)
King Nun (London UK-ENGLAND)
Kings of the Beach (Vigo SPAIN)
Kiwi Jr. (Toronto CANADA)
Knife Wife (Washington DC)
Kokoroko (London UK-ENGLAND)
Kota Banks (Sydney AUSTRALIA)
Kristin Hersh (Providence RI)
KYUSONEKOKAMI (Nishinomiya JAPAN)
Kælan Mikla (Reykjavik ICELAND)
La Banda del Bisonte (Medellín COLOMBIA)
La Fragua Band (Medellín COLOMBIA)
Lady Donli (Abuja NIGERIA) La Garfield (Guadalajara MEXICO)
Lambert (Berlin GERMANY)
Launder (Los Angeles CA)
Laveda (Albany NY)
Leah Senior (Melbourne AUSTRALIA)
Lee Bains III & the Glory Fires (Birmingham AL)
Leif Vollebekk (Montreal CANADA)
Leon Of Athens (Athens GREECE)
LET'S MARS (Tel Aviv ISRAEL)
Lido Pimienta (Toronto CANADA)
LIFE (Hull UK-ENGLAND)
Liah Alonso (New York NY)
Lilla Vargen (Belfast UK-N. IRELAND)
Limboski (Warsaw POLAND)
Liz Lawrence (Stratford Upon Avon UK-ENGLAND)
Lorelle Meets The Obsolete (Ensenada MEXICO)
Lorine Chia (Los Angeles CA)
Los Bitchos (London UK-ENGLAND)
Los Moustros del Espacio Exterior (Culiacán MEXICO)
LOS WILDS (Madrid SPAIN)
Louis Prince (Orange County CA)
Lower Tar (Los Angeles CA)
Luke De-Sciscio (Bath UK-ENGLAND)
Luke Howard (Melbourne AUSTRALIA)
Luna Luna (Dallas TX)
Lunar Vacation (Atlanta GA)
Madame Gandhi (Los Angeles CA)
Madison McFerrin (Brooklyn NY)
Magnolian (Ulaanbaatar MONGOLIA)
Malin Pettersen (Oslo NORWAY)
Manifest Destiny's Child (Denton TX)
Mapache (Los Angeles CA)
Margaret Glaspy (New York NY)
Margarita Siempre Viva (Medellín COLOMBIA)
Maria y Jose (Tijuana MEXICO)
Marlon Craft (New York NY)
Marsicans (Leeds UK-ENGLAND)
Martha Wash (New York NY)
Massar Egbari (Alexandria EGYPT)
Mauricio Sanchez (Monterrey MEXICO)
Mauskovic Dance Band (Amsterdam NETHERLANDS)
Max Chinasky (Cancún MEXICO)
me&you (Sacramento CA)
menwhopause (New Delhi INDIA)
Merk (Auckland NEW ZEALAND)
MEZERG (Bordeaux FRANCE)
MICHELLE (New York NY)
Michigander (Kalamazoo MI)
Mikie Rivera (San Juan PUERTO RICO)
Milly (Los Angeles CA)
Mir Fontane (Camden NJ)
Mirella Cesa (Guayaquil ECUADOR)
Miro Shot (London UK-ENGLAND)
Moaning (Los Angeles CA)
Mobley (Austin TX)
Model/Actriz (Boston MA)
Mojo Juju (Melbourne AUSTRALIA)
Momma (Los Angeles CA)
Monophonicos (Barranquilla COLOMBIA)
Monophonics (Marin CA)
Montañera (Bogotá COLOMBIA)
Moon Kissed (New York NY)
Moon Panda (Copenhagen DENMARK)
Moonchild Sanelly (Port Elizabeth SOUTH AFRICA)
Morena Leraba (Mafeteng LESOTHO)
MORIS BLAK (Boston MA)
Moving Panoramas (Austin TX)
Mpho Sebina (Nko Ya Phiri BOTSWANA)
Mr.Kitty (Austin TX)
musclecars (Brooklyn NY)
My Education (Austin TX)
Myylo (Los Angeles CA)
Nadia Nakai (Johannesburg SOUTH AFRICA)
Nanpa Básico (Medellín COLOMBIA)
Nasty Cherry (Los Angeles CA)
Natalie McCool (Liverpool UK-ENGLAND)
Native Sun (Brooklyn NY)
Neck of the Woods (Vancouver CANADA)
Necking (Vancouver CANADA)
Negative Gemini (Los Angeles CA)
Negrø (Morelia MEXICO)
NekoJam (Taipei City TAIWAN)
Neoma (Cuenca ECUADOR)
Neuza (Fogo CABO VERDE)
New Fame (Da Nang VIETNAM)
Nico LaOnda (New York NY)
Nicolás Molina (Castillos URUGUAY)
Night Dreamer (Los Angeles CA)
NINEONE# (Xi'an CHINA)
Niño Árbol (Tepic MEXICO)
Nobody's Girl (Austin TX)
Nonso Amadi (Toronto CANADA)
Noya Rao (Leeds UK-ENGLAND)
Nyashinski (Nairobi KENYA)
Olivier Cong (Hong Kong HONG KONG)
Orchards (Brighton UK-ENGLAND)
Orquesta Canela (Cali COLOMBIA)
Otha (Oslo NORWAY)
Otoboke Beaver (Kyoto JAPAN)
P.E. (Brooklyn NY)
P.H.F (Auckland NEW ZEALAND)
Pachará (Mexico City MEXICO)
Parisalexa (Seattle WA)
Parliamo (Perth UK-SCOTLAND)
Partner (Windsor CANADA)
PASTEL GHOST (Austin TX)
Pat Dam Smyth (Belfast UK-N. IRELAND)
Patiño (Mexico City MEXICO)
Pearl & the Oysters (Gainesville FL)
Pearla (Brooklyn NY)
Perfect Son (Warsaw POLAND)
Petrol Girls (Graz AUSTRIA)
Pictish Trail (Isle Of Eigg UK-SCOTLAND)
Pigs Pigs Pigs Pigs Pigs Pigs Pigs (Newcastle Upon Tyne UK-ENGLAND)
Pizzagirl (Liverpool UK-ENGLAND)
Pleasure Venom (Austin TX)
PNTHN (San Marcos TX)
Pom Poko (Oslo NORWAY)
Pom Pom Squad (Brookyln NY)
Porridge Radio (Brighton UK-ENGLAND)
Purple Pilgrims (Coromandel NEW ZEALAND)
Qlowski (London UK-ENGLAND)
Quinn Christopherson (Anchorage AK)
Quivers (Melbourne AUSTRALIA)
Raye Zaragoza (Los Angeles CA)
Reality Club (Jakarta INDONESIA)
Remi Wolf (Palo Alto CA)
Richard Spaven (London UK-ENGLAND)
Riders Against the Storm (Austin TX)
Roan Yellowthorn (Camden ME)
Rosehip Teahouse (Cardiff UK-WALES)
Rosie Lowe (London UK-ENGLAND)
Ruby Boots (Perth AUSTRALIA)
Russian Baths (Brooklyn NY)
Ruth Koleva (Sofia BULGARIA)
RVG (Melbourne AUSTRALIA)
S.G. Goodman (Murray KY)
Salma Sky (Lusaka ZAMBIA)
Samba De La Muerte (Caen FRANCE)
Sammy Brue (Ogden NY)
Samthing Soweto (Johannesburg SOUTH AFRICA)
San Cha (Los Angeles CA)
San Mei (Gold Coast AUSTRALIA)
San Saba County (Austin TX)
Santaferia (Santiago CHILE)
Sarah Klang (Gothenburg SWEDEN)
Sarah Mary Chadwick (Melbourne AUSTRALIA)
Sarah Shook & The Disarmers (Chapel Hill NC)
Savannah Sgro (Nashville TN)
Saya (Toronto CANADA)
School of X (Copenhagen DENMARK)
Sen Morimoto (Chicago IL)
Shady Nasty (Sydney AUSTRALIA)
Shah (Toronto CANADA)
Shana Falana (Kingston NY)
Shards (London UK-ENGLAND)
Shay Lia (Montréal CANADA)
Shell of a Shell (Nashville TN)
SHIJIN (Schwarz-Bart/Galland/Braff/David) (Paris FRANCE)
ShitKid (Stockholm SWEDEN)
Shy Beast (Austin TX)
Sierra León (Tepic MEXICO)
Simi (Lagos NIGERIA)
Skylar Gudasz (Durham NC)
Sleeping Brain (Taipei TAIWAN)
Sloppy Jane (Brooklyn NY)
Slow Pulp (Madison WI)
Sofia Bolt (Los Angeles CA)
Sofia Campos (Buenos Aires ARGENTINA)
Sofia Macchi (Mexico City MEXICO)
Sofia Portanet (Berlin GERMANY)
Softer Still (Shepperton UK-ENGLAND)
Sonoda (Los Angeles CA)
Sophia Shen (Zhangzhou CHINA)
Sophie Hutchings (Sydney AUSTRALIA)
Sorry (London UK-ENGLAND)
Sounds of Siberia (Yakutsk RUSSIA)
Sour Widows (Oakland CA)
Spirit Was (Queens NY)
Spooky Mansion (Los Angeles CA)
Squirrel Flower (Boston MA)
Stealing Sheep (Liverpool UK-ENGLAND)
Steam Down (London UK-ENGLAND)
Stella Sommer (Berlin GERMANY)
Strange Ranger (Philadelphia PA)
Stuyedeyed (Brooklyn NY)
Suburban Living (Philadelphia PA)
Suenatron (San Jose CA)
Sui Zhen (Melbourne AUSTRALIA)
SUMIN (Seoul SOUTH KOREA)
Superfónicos (Austin TX)
Swim Deep (Birmingham UK-ENGLAND)
Taimane (Honolulu HI)
Tallies (Toronto CANADA)
Tamtam (Riyadh SAUDI ARABIA)
TC Superstar (Austin TX)
TENGGER (Seoul SOUTH KOREA)
The Accidentals (Traverse City MI)
The Brother Brothers (Brooklyn NY)
The Chairs (Taiwan TAIWAN)
The Dunts (Glasgow UK-SCOTLAND)
The F16s (Chennai INDIA)
The fin. (Kobe JAPAN)
The Foreign Resort (Copenhagen DENMARK)
The Frights (San Diego CA)
The Jones Family Singers (Houston TX)
The Kernal (Jackson TN)
The Mastersons (Los Angeles CA)
The Murder Capital (Dublin IRELAND)
The Orielles (Manchester UK-ENGLAND)
The Pinholes (Singapore SINGAPORE)
The Sherlocks (Bolton On Dearne UK-ENGLAND)
The Tomboys (Kobe JAPAN)
The Underground Youth (Berlin GERMANY)
The Wandering Hearts (London UK-ENGLAND)
The Wants (Brooklyn NY)
The Wood Burning Savages (Derry UK-N. IRELAND)
The Yawpers (Denver CO)
Theon Cross (London UK-ENGLAND)
There (Tel Aviv ISRAEL)
Thornetta Davis (Detroit MI)
Tim Burgess (Dereham UK-ENGLAND)
TisaKorean (Houston TX)
Tolliver (Los Angeles CA)
Tomar and the FCs (Austin TX)
Tony True and the Tijuana Tres (Monterrey MEXICO)
Topographies (San Francisco CA)
Totemo (Tel Aviv ISRAEL)
TRI4TH (Shibuya JAPAN)
Tristen (Nashville TN)
Tufan Derince (Diyarbakir TURKEY)
TÖME (Toronto CANADA)
UCHIKUBIGOKUMON-DOUKOUKAI (Tokyo JAPAN)
Una Canción Bonita (Tuxtla Gutiérrez MEXICO)
Vandoliers (Fort Worth TX)
Vanishing Twin (London UK-ENGLAND)
Vera Sola (Los Angeles CA)
Victoria Canal (Madrid SPAIN)
Video Age (New Orleans LA)
Virginia Wing (Manchester UK-ENGLAND)
Vistas (Edinburgh UK-SCOTLAND)
Waco Brothers (Chicago IL)
Walshy Fire (Miami FL)
Walt Disco (Glasgow UK-SCOTLAND)
Washer (Brooklyn NY)
We Are The Grand (Santiago CHILE)
Weeping Icon (Brooklyn NY)
Weird Milk (London UK-ENGLAND)
Western Youth (Austin TX)
When Chai Met Toast (Cochin INDIA)
Whitney Rose (Austin TX)
Why Bonnie (Austin TX)
WILD (Los Angeles CA)
William Harries Graham (Austin TX)
Wire (Brighton UK-ENGLAND)
World Music Unleashed (Austin TX)
Wyre (Nairobi KENYA)
XCELENCIA (Caguas PUERTO RICO)
YAYOI DAIMON (Tokyo JAPAN)
Young Deji (Houston TX)
Young Georgian Lolitaz (Tbilisi GEORGIA)
Zatélithe (Medellín COLOMBIA)
Zenith (Ciudad Juárez MEXICO)
Ötzi (Oakland CA)