Lollapalooza happens all weekend long, and here's the story for Lollapalooza 2014: one show, three days, with lots of after-show events happening around the city. About 70 bands will perform on five stages, with lots of after shows and late night partying in downtown Chicago hotels. The confirmed dates for Lollapalooza 2014 are Aug. 1 - 3, and the leading favorites for Lollapalooza 2014 rumors: Outkast, Pixies, Arcade Fire and Nine Inch Nails. The Lollapalooza 2014 lineup and Lollapalooza tickets are expected to be announced in the spring.
Fresh rumors include Kid Kudi, Phoenix, Red Hot Chili Peppers, Justin Timberlake and Arctic Monkeys. Other potential lineup rumors include Foster The People, Arctic Monkeys, Massive Attack, Nick Cave and the Bad Seeds, and Queens Of The Stone Age.
Lollapalooza was started by Perry Farrell 1991 and went as one of the great Summer music festivals until 1997, before taking a break until 2003. In that year, Lollapalooza started again and ended the following year under the weight of the cost of being a traveling festival. In 2005 Lollapalooza planted itself in Chicago where it's stayed since then. The festival grounds are located in Grant Park, which is inside the downtown area of Chicago.
You can stay connected to Lollapalooza events for 2014 through MyLolla
Lollapalooza just updated their website for 2014
The Lollapalooza mobile app for is available for iPhone and Android.

Check out our Lollapalooza Video Channel for information on the Lollapalooza 2014 live stream webcast as well as videos from previous festivals. Then come back during the festival weekend and after for archived performances and live sets. Also check out our Music Festival Videos channel for music festival video coverage.
Queens of the Stone Age - Lollapalooza Chicago (Full concert 1080p)
Phoenix - Live @ Lollapalooza Full Show
Lollapalooza - Sunday Highlights
Lollapalooza - Saturday Highlights
Lollapalooza - Friday Highlights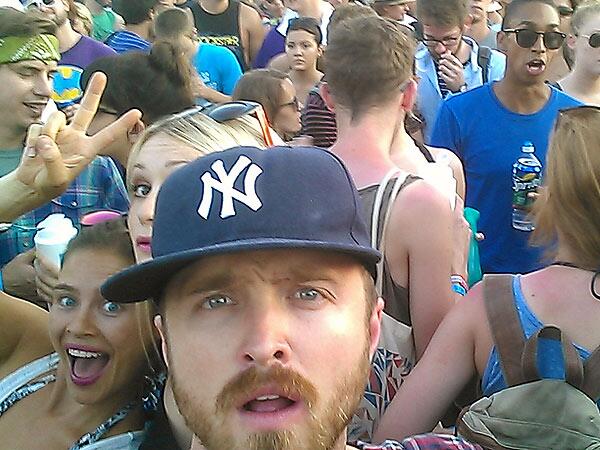 Aaron Paul # Lollapalooza
During a deadmau5 set @ Lollapalooza
Icona Pop @ Lollapalooza
The food @ this year's Lollapalooza should be amazing
Keith Jeffery of Atlas Genius @ Lollapalooza
The Mowgli's @ Lollapalooza