The phase two Ultra Music Festival 2020 lineup is out! Gryffin (live) Kygo, Lazerface by Gareth Emery (live) KSHMR presents Dharma, Loco Dice Madeoan (live) Malaa B2B DJ Snake and Sofi Tukker (live) lead the list of new names for the Ultra Music Festival lineup!
Ultra Music Festival 2020 tickets for Miami are on sale and General Admission and VIP tickets are available! Hit the Ultra Music Festival tickets section farther below for details and access to passes.
If this will be your first time at the festival, hit the Ultra 2020 Guide for first-timers, or to just get a wider view of the festival even if you've been there.
The Ultra 2020 lineup for Resistance Miami includes Adam Beyer B2B Cirez D, Amelie Lens, ANNA, CamelPhat, Carl Cox, Dubfire B3B Nicole Moudaber B3B Paco Osuna and more. Hit the lower part of the lineup section below to see the complete list for Resistance.
The first phase Ultra 2020 lineup included Flume, Major Lazer, Zedd, Gesaffelstein, Above & Beyond, Carl Cox, Adam Beyer | Cirez D, Eric Prydz and more.
There's a payment plan of 5 installments with $125 down. Get on it today if you want to get an Ultra ticket at the lowest price possible, ticket prices increase as we get closer to the festival date. But before you get tickets, check out the phase two Ultra 2020 lineup.
Ultra Music Festival 2020 is a tropical hook up of electronic musicians and minds with a lineup of house music, trance, dubstep, electro and more. Worldwide DJs on the international scene will come to South Florida for the mecca of all electronic music festivals, to play their most-hyped sets of the year. It's three days of music, pool parties and sun. Check back for updates on the lineup. Here's the latest Ultra Music Festival news.
The Ultra Music Festival 2020 dates are March 20 - 22, which is different than originally planned. After threatening to leave Miami, Ultra Music Festival will end staying in the city it's always been in ... plus it's returning to Bayfront Park. Ultra 2020 is coming home! This has been confirmed on the Ultra Music Festival website.
The 2020 Ultra Music Festival Ticket Guide will run you through options with General Admission and VIP tickets as well as payment plan information.
Media people looking to get passes should know that submissions are open. Also hit the Ultra Music Festival 2020 overview to get your questions answered.
After moving to Virginia Key for the last outing, then threatening to move to another city in South Florida that wasn't as hostile to the festival, and then a lot of negotiations with the City Council, the two sides have reached an agreement. Talk about playing hardball! The Miami New Times gives a detailed rundown of the settlement.
Ultra and Miami have had contentious disagreements over the years about location and noise. The festival announced that for the first time ever, Ultra Music Festival would not be in Miami in 2020 (see announcement farther below). Instead they were searching for a new location in South Florida.
But then after that, the City of Miami had an about face and tried to woo Ultra back to Miami after hearing from the people and businesses on how much of a blow to the city it would be to the city in terms of cultural and economic impact. They wanted to welcome Ultra Music Festival back to Miami.
The last Ultra Music Festival lineup included Rezz, Eric Prydz, Martin Garrix, Zedd, Armin Van Buuren, Carl Cox, Adam Beyer ☐ Cirez D, Markus Schulz, Oliver Heldens, deadmau5 and more. Ultra always has the biggest names in electronic music and 2020 should play out in the same way.
Ultra Music Festival stages focus on different genres and types of performances, including Resistance Island, Live Stage, A State of Trance, Worldwide, Mad Decent and more.
Check back for updates on when the phase 2 Ultra Music Festival lineup 2020 will be announced. There's also an Ultra live stream that happens every year, with great preformances from around the festival.
Also check out Ultra Music Festival Australia 2020 and Ultra Europe 2020 to see what other events are like worldwide.
The Ultra Music Festival 2020 lineup and Ultra Music Festival 2020 tickets are below!
What are you gonna wear to Ultra Music Festival 2020? Hit our Spacelab Store to get festival essentials! SHOP NOW >
Kygo will return to Ultra 2020! He last performed four years ago.
Ultra Music Festival 2020 lineup video
Ultra Music Festival 2020 will be like this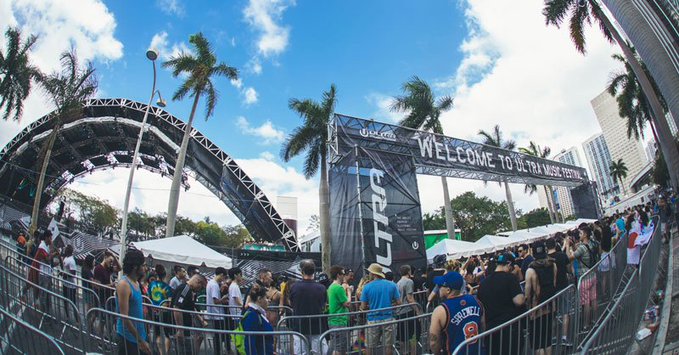 Ultra 2020 tickets are now on sale to the public! SEE TICKETS >
Ultra Music Festival 2020 trailer
We've partnered with Stay22 to help you find a place to stay at Ultra! Click on the icons to browse places to stay, then click through to see more details.
Ultra 2020 is coming #backtobayfront in Miami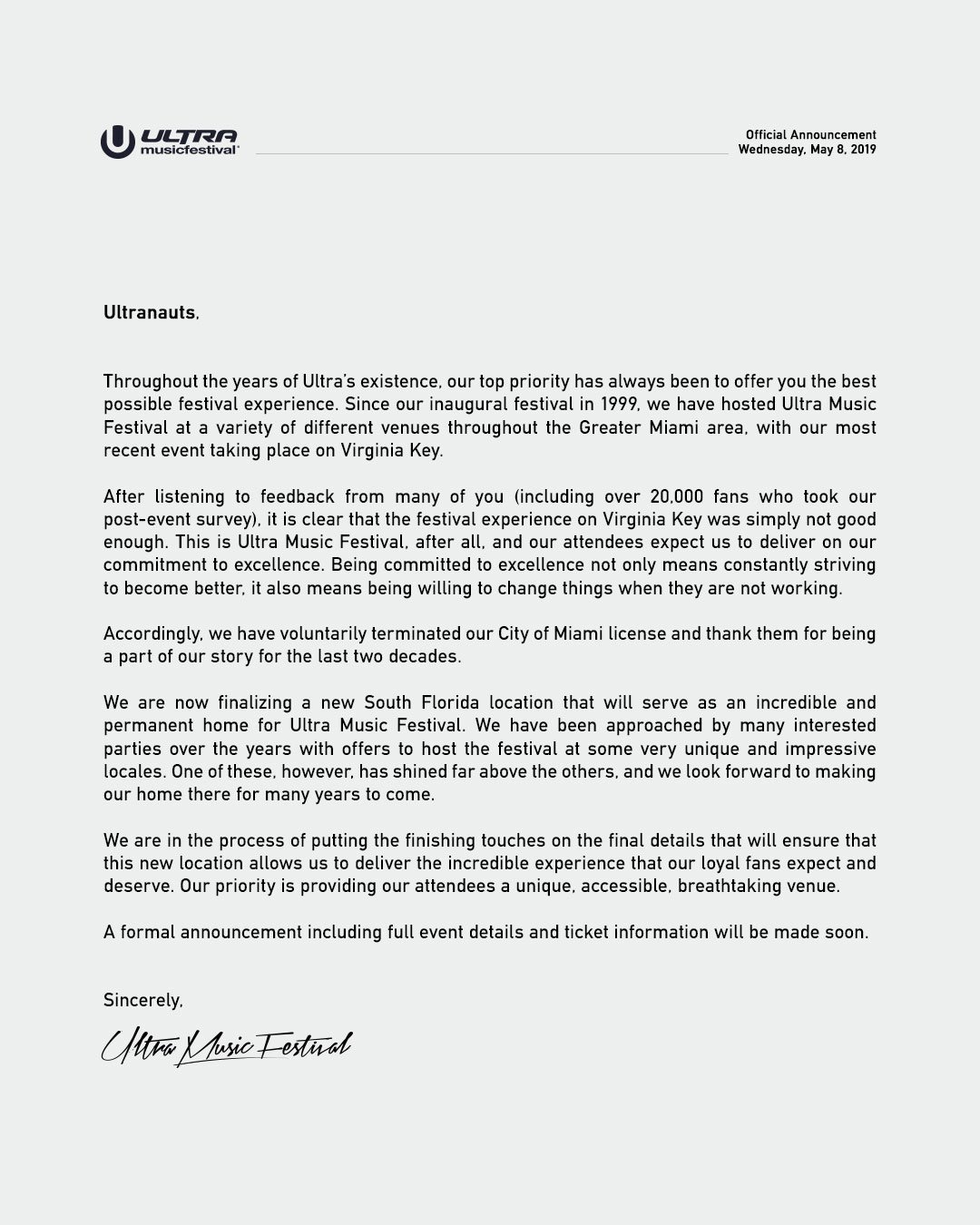 The letter Ultra wrote threatening to leave Miami VIEW LARGER >
Ultra Music Festival 2020 can be your best festival of the year
Ultra Music Festival 2020 will offer another chance to witness the awesomeness that is Carl Cox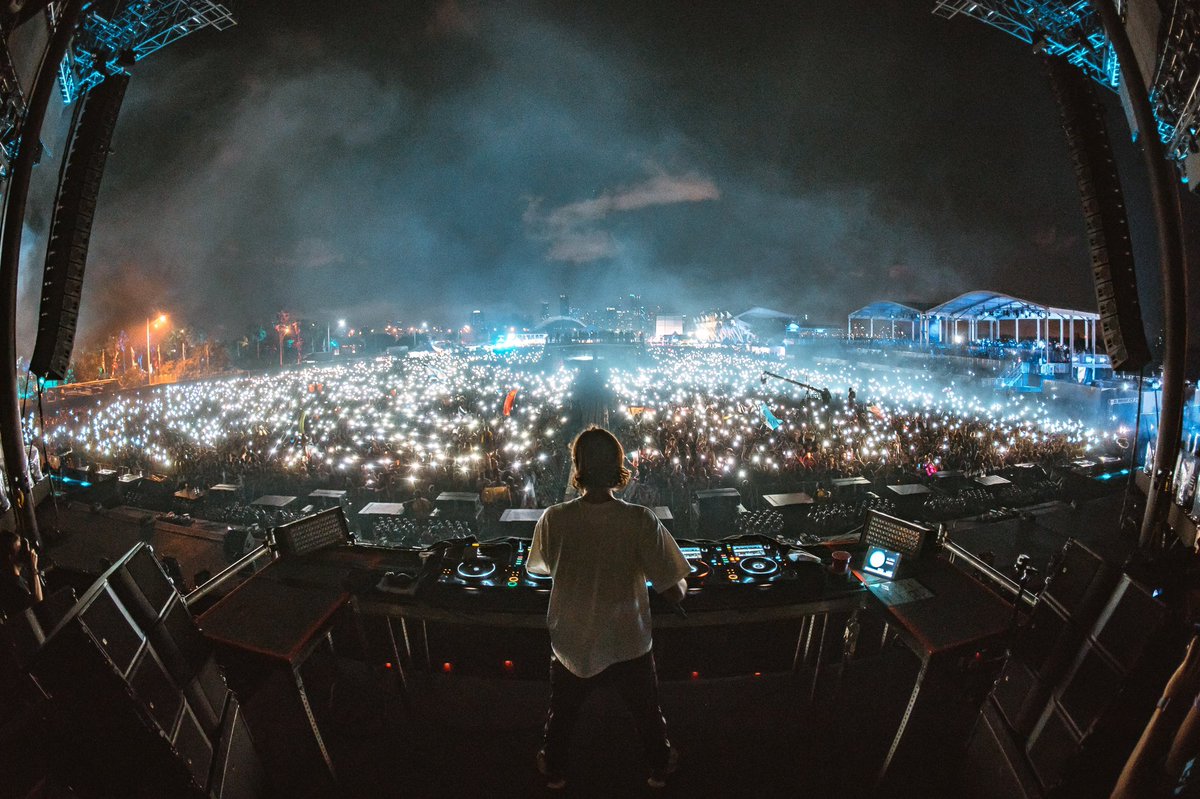 Ultra Music Festival 2020 offers a chance for surreal moments like this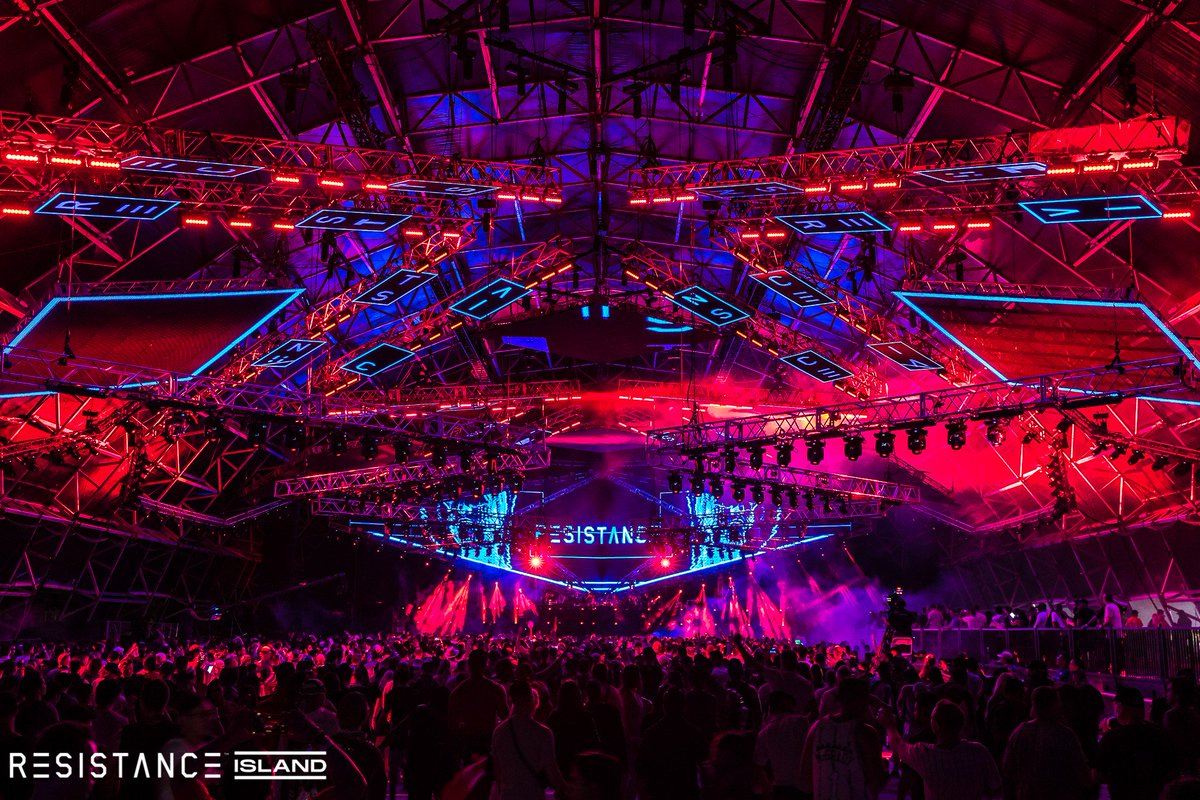 You join the global convergence at Ultra Music Festival 2020
We are likely see the return of the Live Arena for Ultra Music Festival
The Ultra Music Festival schedule for 2020 will be posted here when it is announced.