The Tomorrowland live stream is happening once again this year. This is a guide to everything you need to know to watch the Tomorrowland livestream, including the lineup, schedule and live stream feeds.
The Tomorrowland Winter live stream will have performances via One World TV and One World Radio. All of the live streams will be available farther below, so you can come back here to watch perfomances as they happen.
The schedule of set times for the live stream is out! Check out names like Sunnery James & Ryan Marciano, Martin Garrix, Kölsch, Lost Frequencies and more. See the
full schedule of set times
in the Schedule section farther below.
On Tuesday March 21, watch what's happening at the Tomorrowland Winter official opening party at 19:00 CET. The rest of the week will be as follows below.
There will be five days of live streaming: March 20 - 21 you can relive last year's Tomorrowland Winter, March 22 - 24 is the livestream of Tomorrowland Winter, and March 25 - 26 is a replay of this year's festival.
There's also archived video performances, so come back during and after the festival to catch full-length performances as Tomorrowland live sets. You can watch the live stream right here, every year.
Tomorrowland has a lineup of the world's best Trance, House, Chill, Trap, Electro, Hardstyle and more. It's also one of the biggest electronic music festivals in the world, hands down. It's also one of the most popular and sought after tickets.
It's Tomorrowland Winter and Tomorrowland Belgium: Live Today, Love Tomorrow, Unite Forever. There's also Tomorrowland Brazil later in the year.
The Tomorrowland live stream will available here in the player below to watch during the festival weekend. Come back then to catch all of the livestreams available.
Tomorrowland Winter live stream
One World Radio
Tomorrowland Winter Aftermovie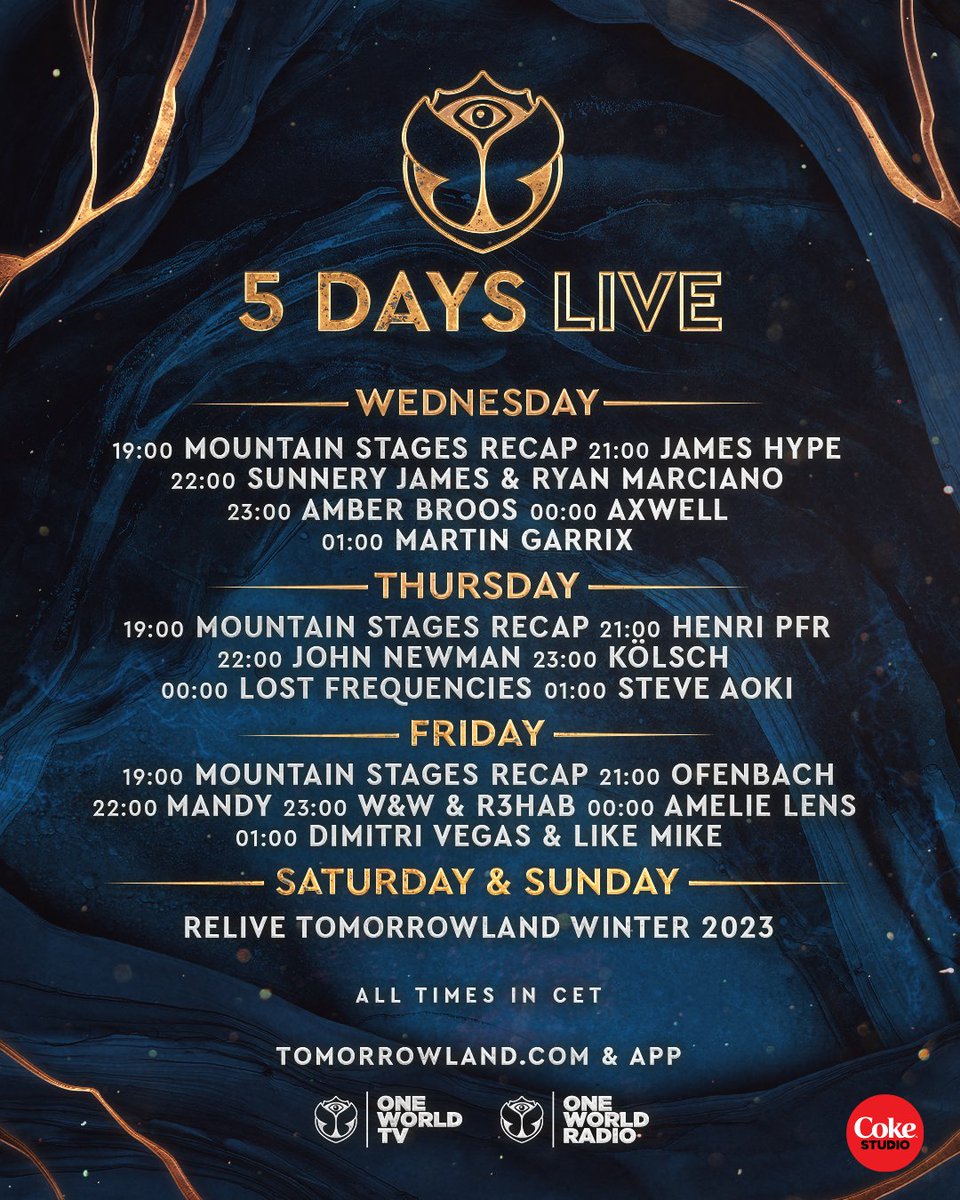 The Tomorrowland Winter live stream schedule
The live stream is happening in the player above. The dates run from March 18 - 25 for Tomorrowland Winter and the dual weekends of July 21 - 23 and July 28 - 30 for Tomorrowland in Belgium. There will be live sets, interviews and recaps. The live stream is free, all you have to do is watch in the players farther above.
For more information on Tomorrowland, hit our Music Festival Guide for a complete rundown on the weekend's events: lineup, tickets, and what the festival experience will be like. Try here for Tomorrowland Winter.
Tomorrowland is an immense festival, regarded as one of the world's premier electronic music festivals. In all facets of the festival, it's known for exquisite stage performance and a high-end experience.
If you dig Tomorrowland, check out Tomorrowland Winter, Primavera Sound Barcelona, Ultra Europe, Creamfields North or Creamfields South.
Come back after the festival to catch archived Tomorrowland live sets.
Adam Beyer
Charlotte de Witte
B Jones
Armin Van Burren
Hardwell
ANNA
Martin Garrix
Kölsch