Holy Ship 2020 is back and ready for action with a whole new format! With the declaration of "Let's. Get. Wrecked" we're off with what's being called Holy Ship Wrecked!
The Holy Ship 2020 lineup is out! Diplo, Lane 8, Claude Von Stroke, Madeon, Armand Van Helden, Gud Vibrations, Jai Wolf, TOKiMONSTA and more! See the lineup poster farther below for a complete listing.
The 2020 Holy Ship dates are January 22 - 26, and the change in format goes from two weekends to one, and it will be on the beaches of Punta Cana for a four day-resort party!
Holy Ship describes the festival/cruise like this: "Top Artists and DJs performing just steps away from your cabin, while you dance and relax with 4000 new best friends floating through the ocean surrounded by every amenity you could need." That sounds like a must-attend event!
Words like epic and amazing seem too small to describe this scene, filled with a lineup of A-list talent.
There's usually Holy Ship Theme Nights -- so you and your crew can dress inline with the theme vibe -- all part of the onboard experience at Holy Ship. Last year's theme nights included Gold Rush and I Love The 80s. With the new format in 2020, it's not clear yet if they'll continue the theme nights. We'll have to wait and see.
Also check out Nocturnal Wonderland, Escape: Psycho Circus, EDC Orlando, Beyond Wonderland, Dreamstate SoCal and EDC Las Vegas for other Insomniac Events festivals.
The Holy Ship 2020 lineup and Holy Ship 2020 tickets are below!




What are you gonna wear to Holy Ship? Hit our Spacelab Store to get festival essentials! SHOP NOW >

You can GET DOWN at Holy Ship 2020
The 2020 Holy Ship lineup IS OUT! SEE LINEUP >

Holy Ship is your chance to get your festfam together GET STARTED >

The 2020 Holy Ship dates are Jan. 22 - 26
Holy Ship 2020 will be like this

You can have the time of your life at Holy Ship 2020

Things will get intense at Holy Ship 2020

Holy Ship 2020 could be the best possible way to start your new year

Kick off next year in style at Holy Ship Wrecked
Holy Ship! Itinerary
Check back for updates on the Holy Ship 2020 intinerary when they are announced.

Holy Ship tickets are on sale!
Check back for updates on the Holy Ship 2020 waitlist when they are announced.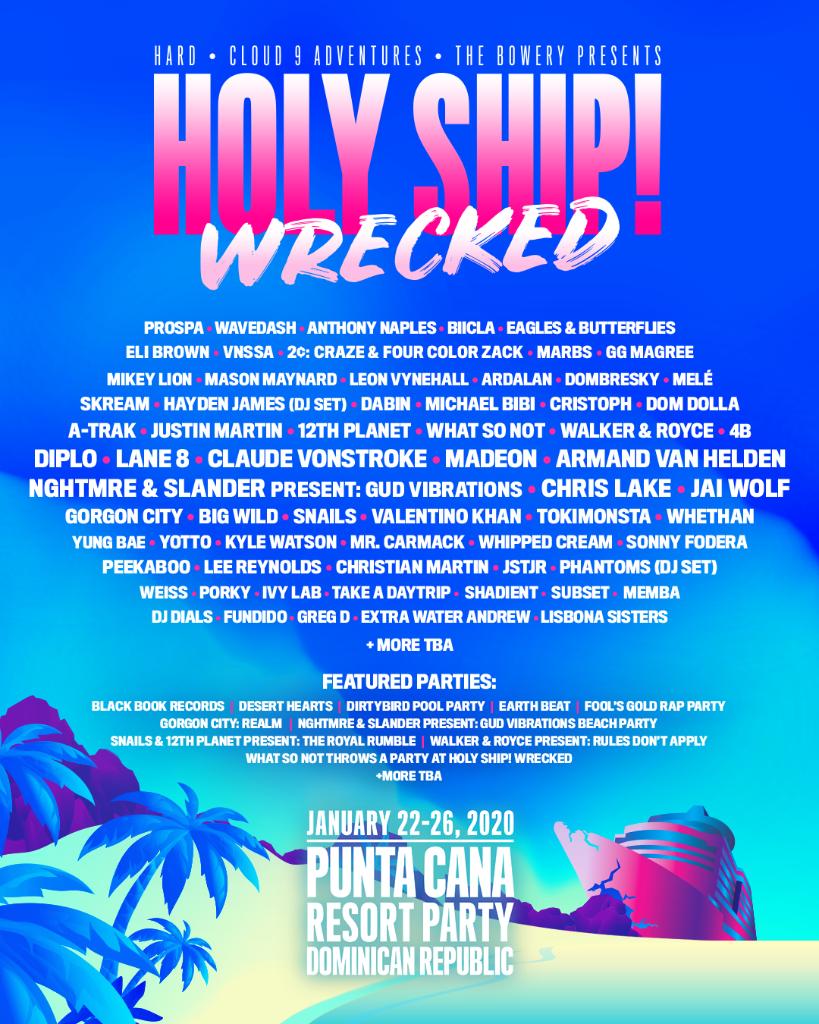 The Holy Ship lineup for 2020
Who do you want to see in the Holy Ship 2020 lineup? Who are your favorites and who are your must-haves?